On March 21st three adventurous South Africans will begin their 8-month bike trek, cycling from Cape Town to Cairo through East Africa to raise awareness and funds for the deaf community of South Africa. In their own words:
"We are three friends, ordinary South Africans, who want to do extraordinary things."
Cycling up Africa not only will the trio be raising funds for the Hear Us non-profit organization, but the two vets on the team will be volunteering at animal welfare and rehabilitation centres along the way!
The team (Ria Moothilal, Jiten Magan and Imraan Sayed) is called Siyashova, which means, "we are pedalling" in the Zulu language, one of South Africa's major languages widely spoken in the KwaZulu-Natal Province. They wanted a local name; both Imraan and Ria are from KwaZulu Natal, as Ria says:
"After all this is about a trip across Africa, undertaken by South Africans."
The first R50 000 (US$7000) generated by this fundraising cycle up Africa is being donated to a specially chosen child, 13-year-old Jody Daniels. Jody needs the extra funds to undergo a cochlear implant operation, an expensive procedure that will help save her deteriorating hearing.
"Our combined efforts will show an immediate result – a child will be able to hear."
Hear Us was established in 2001 by the parents of deaf children with Cochlear Implants, to help
"…bring the gift of sound to those who have not yet experienced it – through cochlear implants"
According to the Siyashova website, an implant device costs R220 000 excluding surgeon fees and other hospital expenses, easily amounting to around R50 000!
The earlier in life candidates undergo the implant operation the better the results, but the costs are too high for most families to afford the treatment. This is where Hear Us wants to assist by establishing a fund to aid children and adults in need of this procedure.
"To create this trust fund, substantial capital injection is required and this is our reason for embarking upon this adventure."
Their intended route through Africa sees Siyashova cycling from Cape Town along the Garden Route to Durban via Lesotho, and on into Swaziland and Mozambique. From there they plan to cycle north into Malawi and then Tanzania detouring to visit Zanzibar, before climbing Kilimanjaro. Next, they will cycle via Kenya's Masai Mara before riding to Ethiopia and Northern Sudan. Lastly, the team plans to cross into Egypt by Ferry pedalling to the Great Pyramids of Giza in Cairo, where this charity cycle through Africa ends.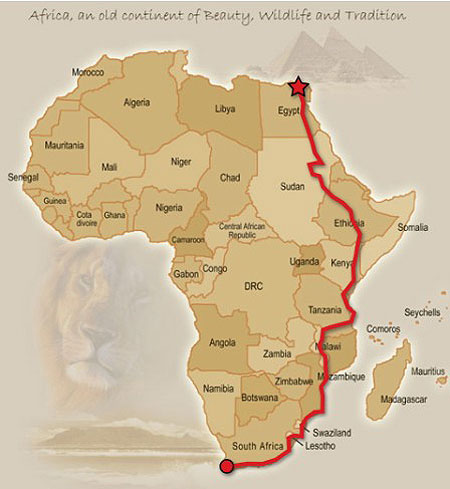 Coming back to the animal care the team will be providing as they cycle up Africa, the Worldwide Veterinary Service has helped the vets, Imraan and Jiten, to make arrangements with organizations across Africa.
Check out the cycling route up Africa that they plan to follow and let the Siyashova team know if you need their help along the way.
You can donate by "buying" kilometers of the cycling trip (R10 per kilometer) or meters of the Kilimanjaro ascent (R10 per 10 meters). You can also "buy" a part of the cycling trip by country as well as set distances.
Donate to Hear Us in support of Siyashova's cause and help bring the gift of hearing to Jody and others in need of assistance.
Read more about this cross Africa cycle for charity on the Siyashova Blog or visit the Siyashova Facebook Page.
Photos from Siyashova Blog.
Inspired to embark on your own journey through Africa? Browse our upcoming tours departing from Cape Town.