What is Moholoholo?
Moholoholo is a Wildlife Rehabilitation Centre that rehabilitates injured and poisoned wildlife, facilitates breeding programmes, and monitors endangered species. It is a non-profit organization.
What does Moholoholo mean?
"The Very Great One"
Where did the name Moholoholo come from?
The final battle, the battle of Moholoholo meaning the great great battle, was fought in 1864 around the mountain of Mariepskop. Mariepskop, also known as Moholoholo - "The Very Great One".
Where is the Moholoholo Centre situated?
Located at the foot of the Drakensberg escarpment in the lowveld of the Limpopo Province of South Africa.
60km's from Kruger National Park's Orpen Gate.
Short drive to Panoramic Route's Blyde River Canyon, Bourkes Luck Potholes and Pilgrims Rest.
30 minutes from the Hoedspruit Airport.
16km's from the Hoedspruit Endangered Species Centre.
About 45km's from Echo caves.
15km's from the Khamai Reptile Park.
What animals are at Moholoholo Wildlife Centre?
Lions
Leopard
Caracal
Wild Dogs
Serval
Cheetah
Lynx
Honey Badger
Crowned Eagle
Marshall Eagle
Vultures
Along with the above list of wild animals found at the wildlife centre, you will also see any other adult and baby animals that may have been rescued at the time of your visit.
Where do the animals at Moholoholo come from?
Animals are brought to the wildlife center from all over South Africa.
Once the animals are healthy enough they are re-introduced to natural environments. The animals that cannot be rehabilitated sufficiently to be returned to their wild habitats are cared for at the wildlife centre. These resident animals are then used to help educate local and international visitors to the centre.
What animals are they breeding at Moholoholo?
Many wild animals and birds have been successfully bred and released into the wild, including:
Crowned Eagles: endangered eagle species. The only breeding programme in Southern Africa to have successfully bred the Crowned Eagle species.
Serval Cats: a very rare feline species. Bred and released around 150 serval cats back into areas where they were no longer found. A very successful breeding programme, with serval filling their niche and breeding.
The Taita Falcon: one of the rarest Falcon species in Africa. Will be bred at the centre.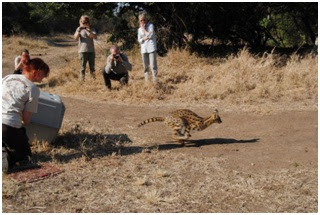 How does the Moholoholo non-profit organisation survive?
This Wildlife Centre relies on public support for survival, with donations and entry fees funding their work.
Who is behind Moholoholo?
Conservationist, Brian Jones who is passionate about wild animals and has been working with them all his life.
Find out more about the Moholoholo Wildlife Rehabilitation Centre on their website.
Read some of the rave reviews for Moholoholo Wildlife Rehab Centre on Tripadvisor.
Here are some of our african safari tours that visit Moholoholo Wildlife Centre.

This photo of Moholoholo Wildlife Rehab Centre is courtesy of TripAdvisor