Last Sunday African Budget Safaris sent me surfing with the Surf Emporium in Muizenberg and as far as things to do in Cape Town go, this experience came out tops! Here is how the surfing lesson went...
Hitting Muizenberg Beach as a Beginner Surfer
Arriving at Muizenberg for my Diva Surf Lesson on Sunday morning, sunblock applied and bikini on, I immediately understand why the place is called Surfers' Corner. Muizenberg is said to be the birthplace of surfing in South Africa and it feels like planet surf.
The sunny parking lot is packed with cars carrying surfboards, surfboards getting ready for the water, surfboards being put back into their body bags and surfers in all shapes, tones and sizes standing around chatting (about surfing I suspect). Muizenberg really does attract a mixed crowd, the place was buzzing with plenty of kids and families, as well as teenagers, middle-agers and some older beach goers.
Arriving at Surf Emporium - the Realm of Surfing
Making my way into the Surf Emporium I'm met by a busy team of tanned blondes assigning instructors and sheparding surfers into and out of the water. My one on one private surfing lesson isn't on the books, even though I booked weeks in advance and followed up with confirmation emails - not a great start to the adventure! I am however quickly slotted in, relatively smoothly, being paired with one surf instructor and then another.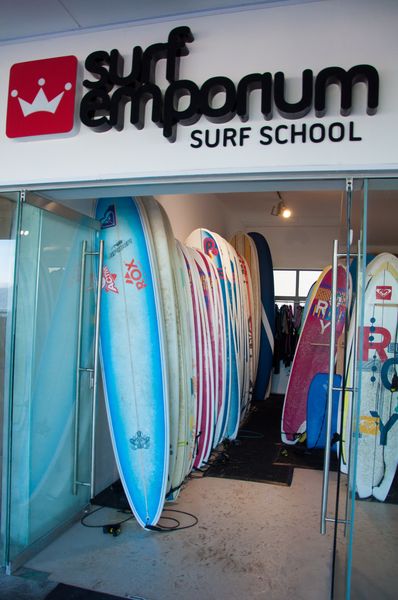 The shop is crowded with surfboards, wet suites and two kinds of people - happy wet-cold people and dry, excited people. Once I've paid my R330 the team directs me to a ridiculously tiny change room, where the floor gets even wetter, to put on my damp wet suite.
Let the Lesson Begin - Surfing on the Sand
Firstly, Craig, my surf instructor, picks out a board for me. It's a giant of a plank that looks big enough to be a life raft. Then Craig issues me with a neon surf vest to make keeping an eye on me in the water easier. Thankfully he carries the 10 foot 2 monster surfboard down to the beach for me where the lesson begins.
To start off my lively instructor runs through some safety measures, including how to respond to the shark alarm! He is lively and knows what he's talking about, stopping to check that I am following his instructions regularly. The land part of the lesson then gets a little embarrassing as we pretend paddle and stand on the beached board. Luckily this is the place to learn how to surf in Cape Town, so I'm not the only one being shown the ropes on the sand.
Apparently I am a goofy foot, which means I lead with my right foot rather than the more common left footed stance, when I stand up.
Fun and Games - Into the Water with the Giant Surf Board
Thankfully Muizenberg is the top spot for surfing beginners in Cape Town and the sand surfing demo is over soon. Then the real fun begins as we head into the cool waves to join the other folks in wet suites.
The water here in False Bay isn't as cold as I expected, being used to the colder water of beaches on the Atlantic Seaboard side. Craig helps to attach the leash to my ankle and shows me how to get over the breakers and turn the mother ship around in the water - away from my body. Pretty soon I'm clambering onto the board and paddling hard towards the beach to catch the little waves back to the shallow water. Luckily, I'm a fast learner and it appears that I quickly grasp the art of wiping out without grace, generally clasping my head to prevent injuries.
Standing up in the water feels so foreign for a water baby used to frolicking in the waves and not on them. Suddenly I realise that all those surfers I grew up with at Nahoon in East London couldn't have been completely lazy, because surfing is hard work!
My surfing instructor, Craig (far right with a big smile), and some students.
Best Part of Surfing Lesson One
My favourite part is the point when the wave starts taking you through the water faster and it's time to get up. You've paddled away, chin up, and it's time to make the move from horizontal to near vertical, standing legs wide, feet flat and arms raised up. Standing on the huge board and riding the little waves is such an amazing feeling, I could have done it all day if my lesson wasn't an hour long and my feet didn't go numb.
I managed to stand a number of times, but couldn't quite crack the art of maneuvering the board off its set course. Craig was there in the water the whole time, watching me, helping me catch waves and even cheering me on when I managed to get up before wiping out spectacularly. After every wave he gave me pointers and encouraged me, which was fabulous.
Challenges of Surfing at Muizenberg
Dodging other surfers was probably my least favourite part of surfing at Muizenberg as there were plenty of people in the water. The waves were apparently not even that busy, but it felt a bit crowded to me with boogie boarders, sea kayakers and stand up paddle boarders thrown into the mix too.
I only swallowed lots of water once, and narrowly missed the fin of the board after one of my tumbles! Not bad for a first time!
The Verdict on my Beginners Surfing Lesson
Leaving the water with a little trophy bruise on the elbow and numb stubs instead of feet, I felt completely satisfied with my surfing lesson and decidedly interested in repeating this really fun experience again.
Back on dry land, Craig followed up with questions about his performance as an instructor and checked that I enjoyed the surfing lesson with him. The nice hot shower was most welcome after my lesson, before heading to the coffee shop next door.
I thoroughly enjoyed myself and can highly recommend beginners surfing lessons at Surf Emporium in Muizenberg. This has got to be one of the most fun things to do in Cape Town!
Surfing really is like nothing else :)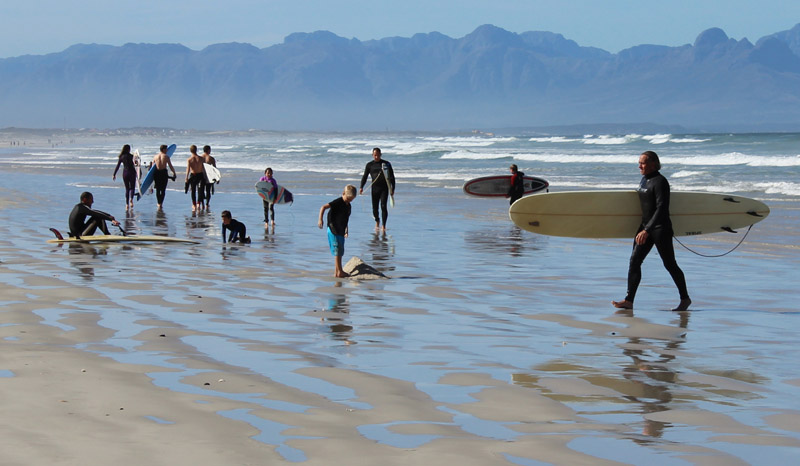 Visit the Surf Emporium online or read the Diva Life Blog for women.
Check out some photos I took of Muizenberg Beach on Flickr.