How Kevin Richardson gets so close to lions and other wild animals without getting eaten alive or dropping dead from a heart attack is a mystery! Do not try this yourself - he is an exceptional case!
This beautiful video shows Kevin in the lion's 'den', cuddling a white lioness and her young cubs at a lion park in Johannesburg. The lioness is in an enclosure, having been separated from the pride to ensure the safety of her newly born cubs. This unique interaction between man and lioness provides a fantastic close-up look at the powerful lioness and her adorable cubs (aged from 1 week to 3 weeks in the video clip).
Watching the cute lion cubs suckle and the lioness placing a soft paw on Kevin's head sparked my curiosity...
Turns out the Lion Whisperer uses his ability to interact closely with lions and other wild animals to make documentary films and commercials, and has even written a book.
Kevin, a self-taught animal behaviorist, works at the Kingdom of the White Lion in Johannesburg and has been involved in various research and wildlife conservation projects.
The photos of Kevin with lions, hyenas and other wild animals illustrate that he has indeed...
"broken every safety rule known to humans when working with these wild animals."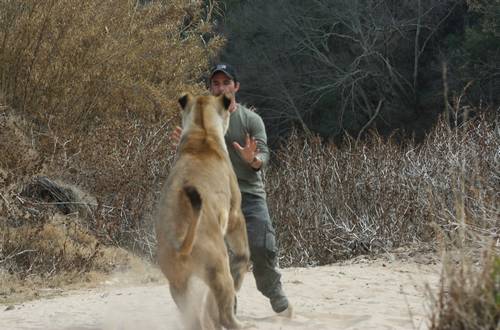 According to his website, Kevin forms a personal bond with the wild animals he gets close to, developing a special relationship based on affection and understanding rather than force and domination.
"His unique method of getting to know their individual personalities, what makes each of them angry, happy, upset, or irritated-just like a mother understands a child - has caused them to accept him like one of their own into their fold."
These are NOT by any means normal wildlife interactions!
On most African Safaris people view wildlife from the safety of game viewing vehicles, with some safaris visiting wildlife centres where you can get a closer look at the animals.
You won't find yourself in this position (see photo below) on a typical African Safari!
Some of our safaris offer game viewing walks with armed rangers and some visit sanctuaries, rehabilitation centres or breeding programs that aid conservation. We DO NOT support wildlife interactions and operations that do not truly benefit conservation. To find out more about why we do not endorse animal interactions take a look at our detailed blog post - The Essential Safari Anti-Bucket List - Things to Avoid & Helpful Alternatives.
Kevin works with the PAW Conservation Trust, a non-profit organization that supports "environmental scientists with all aspects of research, and social ecologists with cultural conservation and education programs". More about Kevin Richardson and volunteering at the lion park - The Lion Whisperer website.
Watching this stunning video of Kevin and wild animals - I can't help but feel just a little afraid for his safety!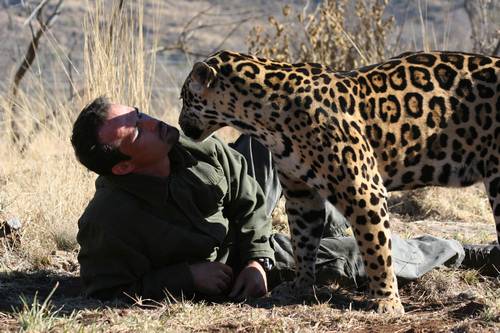 You can download Kevin's book - Part of the Pride: My Life Among the Big Cats of Africa from iTunes.