Starting on Earth Day (April 22) Disney is doing their bit for wildlife conservation by donating 20 US cents from every African Cats movie ticket sold during the Wildlife Feature's opening week to the African Wildlife Foundation.
If Disney can do it, so can we! African Budget Safaris is pledging a 3% donation to the African Wildlife Foundation's Amboseli Corridor Project for selected Tanzania Safari packages bought before the end of May.
See African Cats in the Wild and Help Save the Savanna
Help Africa's Wildlife including the African Cats by seeing them in the flesh! Here's how it works - you go on a Safari to Tanzania and we donate 3% of your tour value to the African Wildlife Foundation to help ensure the survival of wildlife along the Kenya-Tanzania border.
So by booking a Serengeti Safari before the end of May you can help conserve Africa's wildlife from the back of an open 4x4 safari vehicle! Explore the plains of East Africa on one of these affordable Tanzania Safaris and you will contribute directly to saving the wild animals and places in this awe-inspiring part of the world!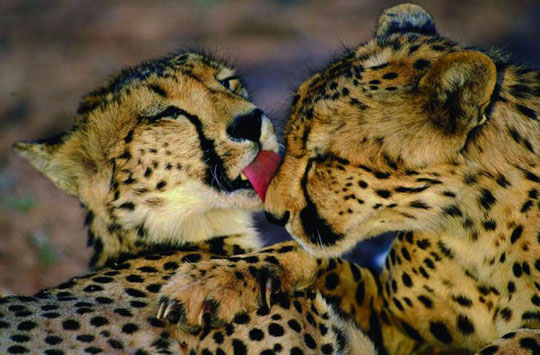 The Tanzania Wildlife Safaris selected for our African Wildlife Foundation Donation Special take you game viewing in the vast Serengeti Park of northern Tanzania. Serengeti Park forms the southern continuation of Kenya's Masai Mara National Park, with the annual wildlife spectacle of the Great Migration taking place between these two famous East African game parks.
Other travel highlights on these Tanzania Safaris include the Ngorongoro Crater known as 'Africa's Eden', Olduvai Gorge, Lake Manyara and Tarangire National Park.
See our African Wildlife Foundation Donation Specials page to find out more about the Tanzania Tours selected for our pledge to help Save the Savanna.
Watch African Cats on the Big Screen to Help Save the Savanna
Disney Nature's African Cats movie is based on the real life adventures of two big cat families fighting for survival in Kenya's Masai Mara. African Cats shows the true story of an injured lioness and her cub, Layla and Mara, and a cheetah named Sita raising five cubs on her own. Footage for this epic wildlife documentary directed by Alastair Fothergill and Keith Scholey was shot on the wild Masai Mara savanna's of Kenya with narration by none other than Samuel L Jackson! Take a look at the Keith Scholey interview to find out about the making of this gripping nature film.
Here's the official African Cats trailer to give you a glimpse of the spectacular scenery and wildlife action to expect from Disney's nature feature.
Check out "Samuel L. Jackson Saves the Savanna by Shooting African Cats" - our Safari Blog post about the African Cats Movie.
Visit the Disneynature Facebook Page to read more about Disney's "See African Cats, Save the Savanna" campaign in support of the Amboseli Corridor Project aimed at conserving these African Cats in East Africa!