Tourism provides crucial revenue for the management and maintenance of most African game reserves and national parks.
Many of our budget safaris contribute directly to African wildlife conservation when travelling to eco-destinations, wildlife rehabilitation centres and sanctuaries. Here's more about one of our eco tour destinations:
About the Khama Rhino Sanctuary Wildlife Project
Khama Rhino Sanctuary is a relatively small game reserve in eastern Botswana, which is not to say it is of little importance in terms of conservation.
Khama is a community based wildlife project, established in 1992 to help save dwindling rhino populations and reintroduce wildlife into the depleted wilderness area, which was formerly inhabited by an abundance of wildlife. Covering about 4,300 hectares of Kalahari Sandveld, including many natural waterholes, today the Sanctuary serves as prime habitat for both white and black rhinos, as well as many other wild animals and more than 230 bird species.
Khama is considered a true eco-tourism destination, as well as being the best place to see white rhinos in Botswana.
This wildlife sanctuary has significantly contributed to the survival of rhinos in Southern Africa, helping to increase populations and protect both black and white rhinos, along with over 30 other wildlife species.
The Sanctuary's long term goal is to provide a safe habitat for rhinos to breed in and to re-introduce them into their natural habitats in Botswana. The Khama Sanctuary is well protected by rangers and the Botswana Defense Force that carry out anti-poaching patrols to ensure the safety of its wildlife.
Khama Rhino Sanctuary Achievements
The Khama Rhino Sanctuary generates economic benefits for the local communities in Botswana through safari tourism and sustainable natural resource use.
Khama's most important contribution to wildlife conservation is its successful rhino breeding programme.
The Sanctuary has, to date, relocated 16 rhinos to different parts of Botswana from its founding population of four individuals.
Restoring previously disappearing wildlife populations to healthy numbers in this wilderness area, as well as introducing new species to the park.
YouTube Video of Rhinos in Khama Sanctuary
Khama Rhino Sanctuary Wildlife
Species that have been re-introduced into the Khama wilderness area include Giraffe, Blue Wildebeest, Burchell's Zebra, Eland, Gemsbok and Springbok, all of which are frequently sighted on game drives. The sanctuary is also home to several wild animal populations that have flourished since the protected area was established, such as Kudu, Steenbok, Duiker and many smaller mammals.
Night game drives in the wildlife reserve give visitors the opportunity to see some of the more evasive, nocturnal animals that would otherwise be missed - sightings include Leopard, Brown Hyena, Caracal, Aardvark and Aardwolf.
In recent years a number of animals have also been spotted passing through the sanctuary, such as Cheetah, African Wild Dog and even a solitary Elephant.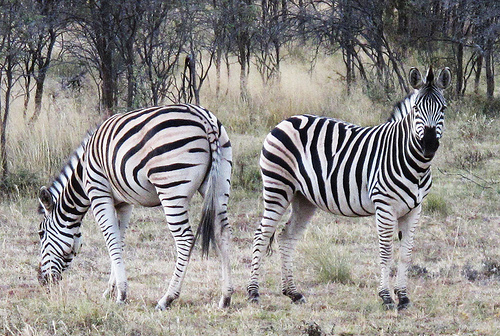 Activities at Khama Rhino Sanctuary
The Sanctuary's roads are well maintained and clearly sign-posted making the game park easy to navigate and accessible for game viewing in four and two-wheel drive vehicles.
Watch the wild animals on Serwe Pan
Excellent bird watching at the tranquil Bird Hide
Watch the sunset over Malema's Pan
Embark on game drives with well trained and knowledgeable game rangers.
Stop for a picnic at one of the rest areas
Visit the Educational Centre
Early morning game drives venture into the bush at 6am, afternoon drives depart at 4pm and the thrilling night game drives leave at 7pm.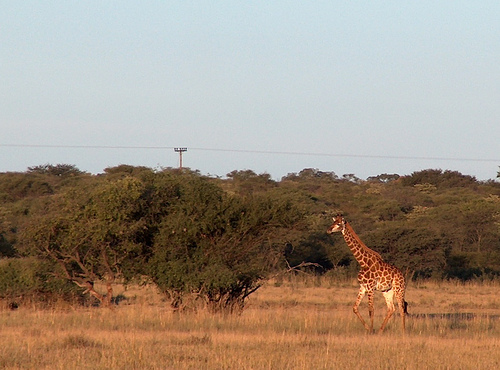 Khama Rhino Sanctuary Education Centre
The Khama Sanctuary also offers educational tours of the wilderness area to schools and others. The Environmental Education Centre, sponsored by the European Union, has a dormitory and camping facilities.
The Centre aims to offer education about the environment and the importance of protecting it, using a range of educational materials and activities.
YouTube Video of Khama Rhino Sanctuary Wildlife
Google Map of Khama Rhino Sanctuary
For more information about this African eco travel destination visit the Khama Rhino Sanctuary website.
African Budget Safaris offers several budget safaris taking game drives in Khama Rhino Sanctuary.