Summer in Cape Town: blue skies, sunshine, and lots of people.
Clifton 4th Beach Crowds -
The Mother City is wildly popular over the summer holidays with both foreigners and up-country South Africans. While the energy of the buzzing Camps Bay strip and V&A Waterfront can be fantastic, sometimes you just want to chill out somewhere more peaceful.
We asked Capetonians where THEY think tourists should go to escape the peak season crowds. Here's what they said: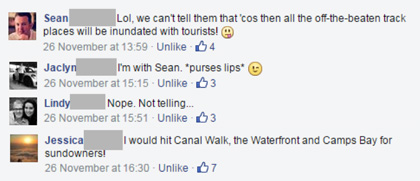 NB: Do not listen to Jessica. Those are the most crowded places in Cape Town, especially around Christmas and New Year!
Not very helpful, huh?
Capetonians are understandably protective of the undiscovered pockets of their city. And if you're in town for just a few days, you'll probably be more interested in ticking the big sights off your list, like Table Mountain, Robben Island and the gorgeous beaches.
But if you're visiting Cape Town for longer than a week or so, and are looking for less touristy, more authentic experiences, read on.
Go a little off the beaten track
After much coercion, we did manage to squeeze a few secret hideaways from a few more forthcoming locals:
Less-popular beaches
Cape Town's glamorous Camps Bay and Clifton beaches are gorgeous, but are chock-a-block over the holidays. If you want more space, head 60km south of the city centre to Scarborough beach – it's unspoilt, beautiful, a popular surfing spot and faces west (perfect for sundowners).
Scarborough Beach looking south to Cape Point Nature Reserve -
Just watch out for the riptides, and brace yourself for VERY chilly waters. Bring a picnic (there's only a hole-in-the-wall kiosk in the village) or stock up on freshly-baked bread, farm cheeses and olives at the nearby Imhoff Farm.
Chapmans Peak - viewed from Imhoff Farm
Alternatively, head north of the city to Melkbosstrand, and enjoy the beautiful postcard-perfect vista of Table Mountain on the way.
Table Mountain from Melkbosstrand -
If you fancy something even more remote and a little adventurous, the exquisite Smitswinkel Bay on the road to Cape Point is a short but very worthwhile hike down from the road. There is no direct road access to Smitswinkel, and rumour has it some of the residents actually commute by boat from Simonstown.
The holiday hamlet of Smitswinkel Bay near Cape Point, seen from the road -
Walk up 'the mountain'*
If you've not pre-booked your ticket for the Table Mountain Cableway, you could be in for a long, hot wait. Rather, make like the locals, and walk up, but heed this advice:

In the height of summer, the routes up the front of Table Mountain (Platteklip) are very exposed and hot, so an alternative is to start at Kirstenbosch Gardens instead and head up the more shaded Skeleton Gorge or Nursery Ravine. Do make sure you go with a guide who knows the way – and take lots of sunscreen, water and a jumper, as it can be chilly up top.
Kirstenbosch Gardens and the new Boomslang walkway, with Table Mountain behind - Adam Harrower
*'The mountain' is always Table Mountain. Locals will be specific if they mean something else, like…
Hike up Lion's Head for sundowners
The start of the short hike up Lions Head -
Full moon is particularly beautiful from the top of the Lion, but this is also when it's most crowded. It's a fairly easy walk up except for the last bit, which is steep. Remember to pack a head-lamp so you can see the path on your way down.
Table Mountain and the city seen from Lions Head at sunset -
Or just go a little bit further along the mountain...
Are you picking up a trend here that Capetonians love their mountain? One tip is to drive up to the cable station, and then keep going past it until you reach the end of the road. Park your car there and keep walking along the old (closed) road for some fantastic views.
The Hoerikwaggo Trail
This trail is a must-do for serious mountain-lovers, who want to get up close to the Cape's fynbos vegetation and spectacular views.
Looking down on Chapmans Peak Drive and Hout Bay from the Hoerikwaggo Trail - Cape Point Route
The Hoerikwaggo Trail starts at Cape Point and ends at the Table Mountain Cableway station, and you can do all of it, or just a section. If you hike for more than one day, you'll get to stay in one of the beautiful, permanent tented camps at Smitswinkel, Kommetjie, Silvermine or Constantia Nek.
Looking down on Chapmans Peak Drive with Chapmans Peak behind - on the Hoerikwaggo Trail - Cape Point Route
The camp structures have been fashioned from roughly-hewn alien vegetation, which was chopped down to encourage the revival of the indigenous fynbos.
The Hoerikwaggo tented camp at Slangkop, Kommetjie - Cape Point Route
The final leg of the Hoerikwaggo Trail from Constantia Nek to the Cableway is arguably the best route up the mountain – you'll walk through lush, tourist-free indigenous forests as you hike up the permit-only Orangekloof.
Orangekloof-hike-up-table-mountain -
Go hiking and / or caving above Kalk Bay
The contour path up Kalk Bay mountain - Luke Hardiman
During summer, and especially before and after new year, boho hot-spot Kalk Bay, with its harbour eateries, 2nd hand stores and crafty main road, is jam-packed with visitors. But venture a couple of hundred meters up the hillside above Boyes Drive and you will find clearly marked and mapped mountain paths. These take you through indigenous forests and past the entrances to 50 or more local caves.
Looking down on Fish Hoek from Cave Peak - Luke Hardiman
Even if you're not into tight spaces, the hikes are a must for the spectacular views alone. If you're keen to explore some grottos, be sure to take a headlamp.
Boomslang cave
About to enter Boomslang Cave, headlamps at the ready - Rochelle van der Merwe
If you visit just one cave make it Boomslang cave. 500 meters wide, it stretches from one side of Cave Peak to the exit just above Echo Valley's indigenous forest. The panoramic views over the Fish Hoek valley are spectacular. Look out for the bat colony in the main chamber, but don't shine your light directly at the critters - bats are super-sensitive to bright light.
Hijinks Inside Boomslang Cave - Rochelle van der Merwe
From the northern exit of the cave, you can ramble down to the path and take the forest boardwalks to the left up to a natural sandy amphitheatre (signposted). From the amphitheatre you can walk down through the Spes Bona Forest boardwalks, wedged between two steep rocky valley walls, down towards the beaches below.
A family picnic on Cave Peak - Luke Hardiman
Be sure to pause and take in the spectacular views across False Bay to Gordons Bay and Hangklip, 50km across the water
Looking across False Bay from below Cave Peak - Luke Hardiman
Caving on Kalk Bay Peak and surrounds has a rich and interesting history. It's worth doing some pre-caving research online - (there's quite a bit of info out there on various sites) or better still, see if you can find an experienced guide to take you up there.
Johan Meyer & The Moles
Most of the caves were first named and mapped in the 1930s by a retired school teacher living in Kalk Bay. Johan Meyer started his own caving club - a self-styled scout troop of sorts called 'The Moles'. They awarded caving certificates to members who visited the twelve most important caves on the mountain. The Moles painted the names they had given them on the cave entrances, some of which can still be seen 80 years later.
Darklife in particular has a fantastic article on the subject.
Looking down on Kalk Bay from half-way up Weary Willys - Luke Hardiman
Less crowded wineries
If you'd like a little elbow room when tasting the Cape's best tipples, steer clear of the beautiful but popular Constantia, Stellenbosch, Franschhoek and Paarl wine routes and instead head to the Hemel en Aarde (Heaven and Earth) valley.
Newton Johnson Wines, Hemel en Aarde Valley - Newton Johnson
Situated just outside the whale-obsessed holiday town of Hermanus, it's about an hour and a quarter from Cape Town.
Whale watching on the Hermanus Coast -
The Hermanus wine route includes popular estates like Bouchard Finlayson, Hamilton Russell and Newton Johnson, but we also rate the lesser-known Ataraxia and Hermanuspietersfontein too. This area is also home to several fabulous restaurants – for lunch, try Temptation or the Champagne Verandah at La Vierge, or Heaven at Newton Johnson (where the views are divine).
Road trip down Clarence Drive
Go a little out of town and you're in for a treat – beautifully scenic routes that take you to quaint little villages. Our favourite day trip is to Hermanus via Clarence Drive - the coast road from Gordon's Bay through the beachy towns of Hangklip, Pringle Bay, Betty's Bay and Kleinmond.
Clarence Drive - Abster on Flickr
Crystal Pools
If you enjoy a dip in a pristine mountain rock pool, the Crystal Pools hike is a gem, slightly off the beaten track. A short hike off Clarence Drive and up the Steenbras River Valley takes you through a series of waterfalls and rock pools.
An overview of the hike from Clarence Drive - Cape Town Daily Photo
If you want to get your adrenaline pumping, you can cliff-jump here - but only with an experienced guide. Find out how to get a permit and plan your trip here.
Just one of Coda's awesome Flickr pics of the pools - Damien du Toit
Find out more at Cape Town Daily Photo's detailed post on Crystal Pools and check out Coda's set on Flickr for more awesome pics of the pools.
Betty's Bay
Betty's Bay is one of the Cape's prettiest, sleepy coastal villages. There's lots to do: check out the beautiful fynbos-rich botanical gardens, the marine-protected shore including a penguin colony, and the remains of the old whaling station. The village lies within the Kogelberg Biosphere Reserve, which was the first UNESCO Biosphere to be declared in South Africa.
Betty's Bay - an important UNESCO-declared biosphere
The scenery is spectacular and in August and September, you can spot Southern Right whales lolling about in the ocean (the Cape is one of a handful of land-based whale-watching sites in the world).
Explore the suburban markets
Avoid the popular, more central markets and head out into the suburbs or the winelands. You'll be hard-pressed to find a fellow tourist at the Friday night Bluebird Garage Market in Muizenberg, the Root 44 market near Stellenbosch, or the kid-friendly Tokai Forest Market. For a full listing of Cape Town's markets, this is a great site.
Arts & Crafts - Montebello Design Centre
Lunch and light shopping at the Montebello Design Centre
This little estate is hidden beneath centuries-old oak trees in Newlands.
Arts & Crafts - Montebello Design Centre
The eggs benedict at The Gardener's Cottage are rumoured to be the best in Cape Town, and the design and craft shops are perfect for finding unusual but African-inspired souvenirs.
The Gardeners Cottage - Montebello Design Centre
Newlands Forest is five minutes away with kilometers of shady, stream-cooled hiking trails criss-crossing the eastern contours of Table Mountain.
Newlands Forest stream - Luke Hardiman
Hang out with locals
The best way to escape other tourists is to make friends with a local! Spending an afternoon or evening around a braai (barbecue) or pool is a pretty typical Cape summer pastime. While they are reluctant to share their secret spots with you here, in person they are a pretty friendly bunch who want you to have a wonderful time in their city.
BONUS TIP: Start early.
Come early to Boulders Beach and you need only share it with the local penguins -
Want to avoid both the locals AND the tourists? Get a really early start! The sun is up by 5.30am in mid-summer, meaning you can get in several hours of beach time before the hordes arrive. The most popular beaches are all much quieter before 10am.
Did we miss anything?
Do you know of an awesome, secret spot in Cape Town? If you're willing to share, we'd love to hear about it in the comments below.