Africa's 10 Best Surf Spots scattered across the continent from Morocco and Senegal in the north to South Africa and Mozambique in the south, as well as some secret spots in Southern and West Africa.
Morocco - legendary surf status & perfect right-hands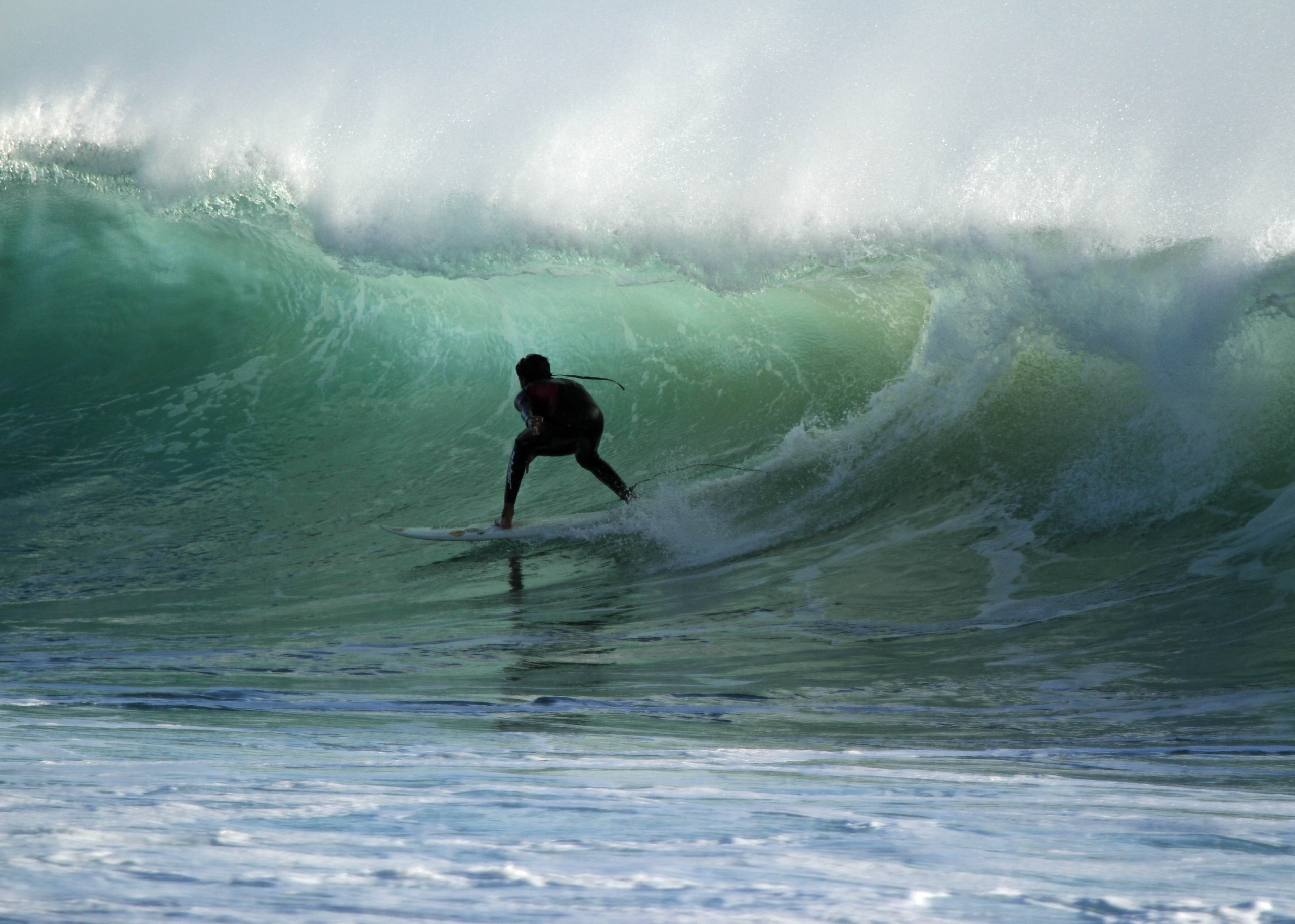 Northern Africa's Morocco boasts some of the world's best surfing spots.
1. Taghazout - Anchor Point & Boilers
The Taghazout area in the Agadir region of Morocco has been attracting surfers from across the globe since the free-living 60's for its phenomenal right-hands
Anchor Point - Morocco's Most Famous Surf Spot
Anchor Point is renowned for consistent waves at all tides and the clean lines of its surf. Waves start at about 3ft reaching up to 15ft and can range between about 300m to 500m long. "This surf break is a mix of sand and reef bottom with 3 different sections where you can go for cover ups and turns at the first two sections and the last one just gets quite hollow and fast" - SurfInn.
Boilers – Morocco's Most Challenging Surf Spot
Named after the boiler of a shipwreck that can be seen as the waves form, this is one of the most thrilling spots. Boilers is considered the most challenging break in the region, an awe-inspiring surf spot that draws professional photographers in search of the ultimate surfing image.
The best time for surfing in Morocco: during the winter - from September to April - due to the bigger swells, as a result of storms on the North Atlantic Ocean.
Pros: Surf spots are all easily accessible and Morocco has mild winters. The waves generally break over flat rock and sand, with great pointbreaks. Morocco is close to Europe which cuts travel time and costs, the cost of living is cheap and the local culture is interesting and diverse.
Find out more: Best surf spots in Morocco
Senegal - uncrowded world-class waves
'Despite world-class waves, the beaches around Dakar are still little known and uncrowded – the perfect spot for a surfing safari' - The Guardian.
2. The Almadies - one of the best swell windows
This part of Senegal offers a wide variety of surf, from waves for beginners to reef ledges for pros. Along this scenic coastline there is almost always a sheltered spot with good peak to be found. The Almadies Peninsula lies just outside of Senegals capital city, Dakar, on the westernmost point of Africa, at the end of the Cap Vert Peninsula.
This is a favourite spot with surfers, offering one of the best swell windows in the world, with swell coming in from the north, west and south. Among Africa's biggest and most consistent swell windows, swells here can approach from the southeast and all the way around from the north, in a 260° turn! This is a good region for experienced surfers, due to the variety of waves, consisting mostly of reef breaks.
Two of the hottest spots on the mainland are Secret Spot and the world-class Ouakam right, a horseshoe bay on the southern shore which sees powerful waves during winter.
3. N'gor Island - Senegal's most famous wave
The right-hander at N'gor beach is Senegal's most famous wave, found on the 500 hundred metre long N'Gor Island, lying 500 hundred metres off the coast of Dakar on the mainland.
The best wave on the island, the N'Gor Right is one of the classical surfing spots featured in the 1964 surfing movie 'Endless Summer'. Today N'Gor Island is a trendy, but not too crowded, surfing getaway with pretty cobbled streets, restaurants, bars and of course, beaches. The N'Gor left is also considered a great wave for experienced surfers.
The best time for surfing in Senegal: winter from November to March for big waves - as the winter swells come in from the stormy North Atlantic Ocean and in autumn from August to September there are smaller but consistent swells in the 3 to 6 foot range.
Pros: Escape the crowds and the sharks (no shark attacks recorded here) at a huge variety of quality spots that are all easily accessible. Many of the surfing spots are within walking distance of each other, as well as being incredibly picturesque with stunning backdrops. Senegal is also a cheap surfing destination with good infrastructure.
Find out more: WannaSurf or GoSurf
South Africa - consistent world-class surf
From east to west all along the almost 3000 kilometre coastline are great to fantastic spots to be surfed making South Africa the surfing paradise it is.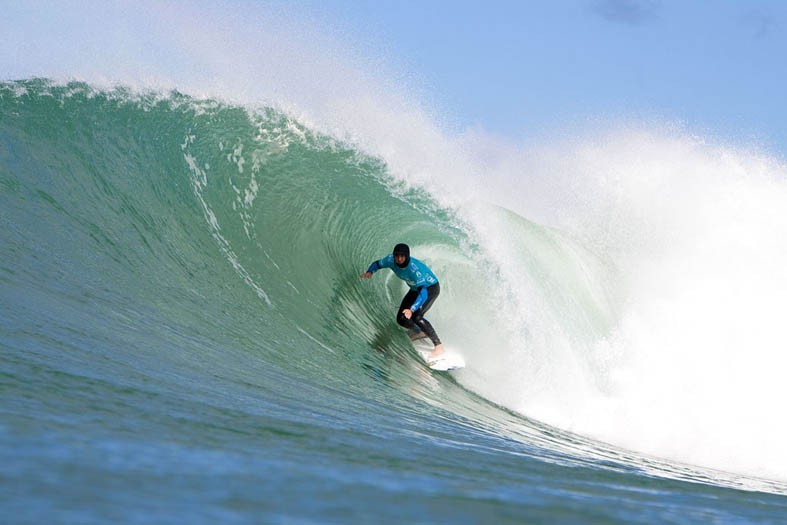 4. Jeffery's Bay - surfing mecca of South Africa
Jeffreys Bay is one of the most famous surfing destinations in the world, hosting the annual Billabong Pro surfing challenge at Supertubes in July. Located in the rugged Eastern Cape Province of South Africa, about an hour's drive southwest of Port Elizabeth the waves are best during the winter months of June to August. Supertubes in J-Bay is said to be one of the fastest and most perfectly formed waves in the world. The top spot is Super Tubes, with other favourites including Boneyards, Kitchen Windows, Magna Tubes, Point and Albatross.
5. Dungeons (Hout Bay, Cape Town) - legendary surf spot for the brave
Classed as one of the world's "big wave" spots, a leg of the red bull big wave competition is held here. Dungeons only pumps during winter storms when 15 to 30-foot swells break over the shallow reef. Located on the ocean side of Hout Bay Dungeons is only accessible by boat and is only suitable for experienced surfers.
6. Long Beach (Kommetjie, Cape Town) - one of the most consistent waves
Long beach offers one of the most consistent waves in the country and is very popular with surfers. Located about 40-minutes drive from Cape Town city, the wave here breaks to the left and the right. This spot is best when the south-easter blows (summer) and is suitable for intermediate to experienced surfers with its small to medium yet well-formed waves.
7. Elands Bay (West Coast) - West Coast surfing gem
This surf gem of the West Coast is about three hours' drive up the coastline from Cape Town. The wave is best in summer here when the south-easter holds a westerly creating a perfect left point break. This wave is ideal for the more experienced surfer.
8. Wild Coast - wild and remote with classic waves
Ntlonyane (Breezy Point) is a regional classic with an exposed point break with very reliable surf. The long, tubing right-hand point break here is comparable to Jeffrey's Bay. This spot is best surfed when the swell approaches from the south and the winds from the west or southwest. Sharks are a risk here, especially when the rivers flood in summer and during the winter Sardine Run. Port St Johns or Coffee Bay, also has great surf.
9. Durban - 'The Bay of Plenty' South Africa's surfing capital
Durban hosts the most consistent waves in South Africa, with regular swells and good wind conditions creating good quality surf. The swell generally gets bigger the further north you travel, and there are plenty of world-class waves for all levels of experience. The beaches of Durban are a great place to get loads of surfing in, as there are waves working in most spots on most days. Other pros include the warm Indian Ocean waters and the hot weather which make surfing for longer and more often comfortable.
Top surf spots: New Pier (careful for the locals) with a right and left break for experienced surfers. Ansteys Beach, Baggies, Brighton - Bluff, Cave Rock, Getaway Wavehouse, North Beach, Dairy Beach, Vetchies Reef and many more!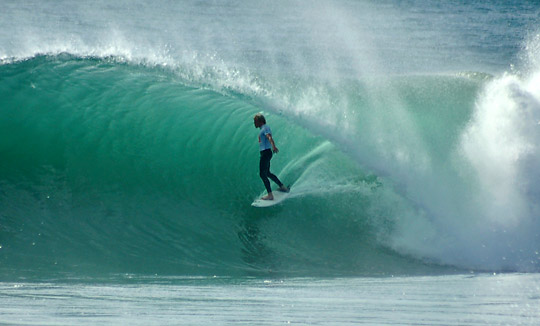 Other South African Surf Spots
Muizenburg - for beginners in Cape Town.
Dunes - For experienced surfers. Expect solid six to eight foot waves offering world-class tubes when the south-easter blows.
Nahoon Reef - world class waves and the warm waters of East London in the Eastern Cape. Described by some pro surfers from Hawaii as the closest wave to Sunset Beach (outside of Hawaii).
Cape St Francis - barrels that role for kilometres and a variety of point breaks.
Outer Kom - near Kommetjie, is one of the best big wave spots in South Africa.
Mozambique - warm water surfing & world-class waves
10. Tofinho Point - world famous right-hand reef break
Tofinho at Tofo, near the town of Inhambane, is considered the best surf spot in the country, known for its immaculate reefs and offering a wide variety of waves for every level of experience. The best time to surf in Mozambique is winter (June, July and August), which still has good beach weather. Pros include the warm waters, friendly locals, great waves and affordability.
Ponta do Ouro (Point of Gold), just north of the border with South Africa boasts long waves and Mozambique's best-known right pointbreak and is easily accessible via Maputo or the South African border at Kosi Bay.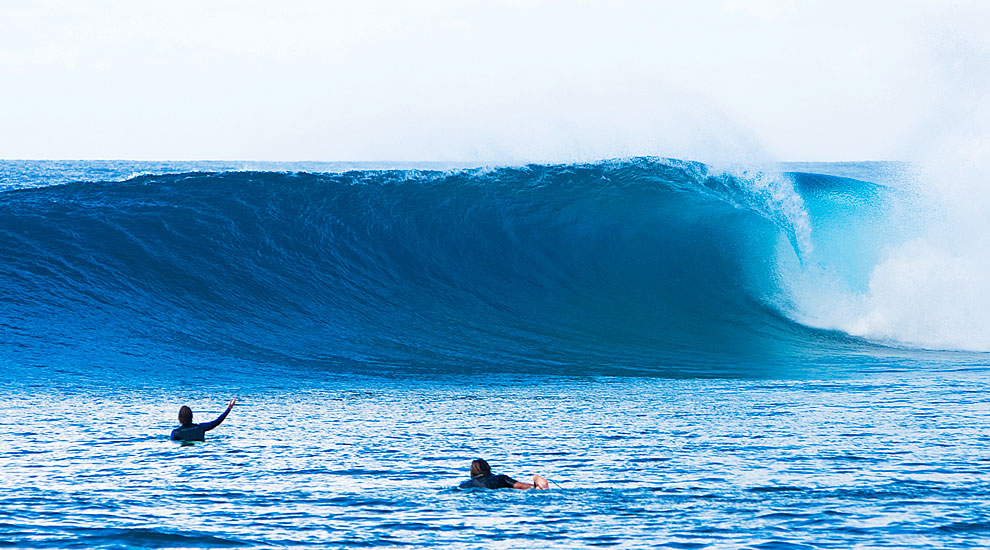 Hidden Surfing Gems - underground surf spots
Robertsport, 50 km's north of Monrovia, Liberia's capital, features stretches of disserted beaches with world-class waves. It is reputed to be West Africa's best unknown surf spot (in season) and is accessible from Monrovia by a dirt road.
Skeleton Coast of Namibia - surfing worlds best-kept secret
Skeleton Bay in Namibia has the best lefthander in the world, or near the top depending on opinion. This is a remote, untamed and epic surf spot.
Video: Marc Lacomare, Alain Rioua and Aritz Aranburu score an endless diamond tipped left on Namibia's Skeleton Coast.
One of the last frontiers of the surfing world, Namibia's Skeleton Coast has 6 perfect, long lefthand pointbreaks that are a mission to access, if not inaccessibly located off private diamond mining property.
One of these, Ovahimba Point, near the Ovahimba village of Okandjombo, could be one of the best surf spots in the world, as well as one of the most inaccessible. Then there's Angras Juntas, Elizabeth Bay, Hottentot Bay, Spencer Bay and the classic righthand breaking Luderitz Wedge.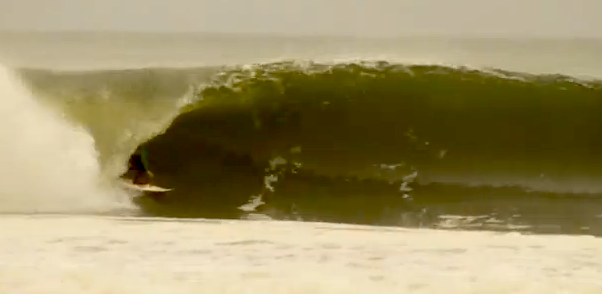 More about the Skeleton Coast surf or see the StokeReport.
Other favourite spots in Namibia: Walvis Bay, Swakopmund and Cape Cross, more into the wilderness with a continuous left break hundreds of metres long at times.
Icy waters, sharks, inaccessibility and lack of infrastructure are major challenges to surfing the Skeleton Coast.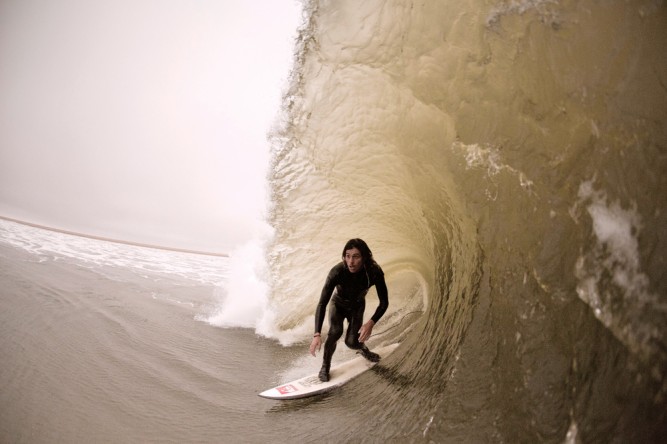 African Surfing Destination Wrap-up
For the most variety in surf and locations, South Africa is the single destination with the best to offer in Africa, for convenience and renown it's Morocco and for fewer crowds and world-class surf go to Senegal. If pretty beaches and good weather matter, as well as budget, then Mozambique's your place and if you're looking for a challenge and a mission then Namibia's Skeleton Coast is calling.