When it comes to planning a safari in Africa, Madagascar is often overlooked as a travel destination, sometimes not even being recognised as a part of Africa! Madagascar is a unique, well-rounded and fascinating holiday destination, where you can hike in rainforests, see all sorts of amazing creatures and laze on the tropical beaches.
Madagascar - unique, diverse & friendly
This island nation lies off the coast of East Africa in the region of Mozambique on the main continent. Located out of the way in the Indian Ocean, Madagascar is the fourth largest island in the world, home to vibrant cultures and friendly people.
One of the most outstanding features of Madagascar is the incredibly high biodiversity found across its different ecosystems, making it one of the world's biodiversity hotspots. This 592 800 km² (228 900 sq mi) island is home to unique wildlife species, most of which (over 90%) are endemic, which means they are only found here. The lemur is the most renowned of Madagascar's animals, which include exotic chameleons, frogs, boa constrictors and numerous birds.
Madagascar's impressive array of rare and unique flora and fauna alone make it well worth visiting. Over and above the attraction of its exotic life forms the island offers untouched diving sites with amazing marine life and intact coral reefs, balmy beaches and beautiful scenery.
Northern Madagascar - tropical beaches meet lush rainforests
The northernmost part of Madagascar is called the Diana Region, also known as the tropical north. It's a place of pretty white-sand beaches, mangrove swamps, rainforests, limestone formations and ancient baobabs. The skies are sunny most times of the year, the beaches alluring and the scenery captivating, so take along boots, cameras and swimsuits! This is not an either or destination, it's a lazy beach and forest adventure combination spot!
Best reasons to visit the tropical north or "paradise lost" as the Lonely Planet calls it, include:
Nosy Be Island - Madagascar's premier beach destination
Antsiranana, formerly called Diego-Suarez - the capital city of the Diana Region
Montagne d'Ambre National Park - tropical rainforests home to unique and rare creatures
Ankarana National Park - limestone massif, caves, evergreen forests and underground rivers
Nosy Be Island - Madagascar's premier beach destination
This laid-back tropical island located only eight kilometres (5 miles) off the northwestern coast of Madagascar, boasts the ideal climate for a beach getaway. Nosy Be is blessed with palm-fringed beaches lapped by clear blue waters and is not a flashy, pretentious beach paradise, still offering rustic charm compared to more developed beach destinations.
The hilly island, dotted with bright bougainvillaeas, is a great place to slow down and watch beautiful sunsets while sipping on cocktails.
The volcanic isle is nicknamed the scented island (Nosy Manitra), for the delightfully fragrant scents of ylang-ylang, coffee, vanilla and sugar cane plantations. The name Nosy Be means 'big island' in Malagasy and this is Madagascar's biggest tourist resort area, yet it retains an easy-paced, down-to-earth atmosphere.
On Nosy Be you can encounter diverse marine species on a dive and spot the world's smallest frog and smallest chameleon on a forest walk - in one day!
Nosy Be Activities include:
Dhow Sailing Trips (traditional vessels)
Alfresco seafood dining
Island hopping trips
Cultural Excursions
Snorkelling and Scuba Diving
Deep Sea Fishing
Yacht Charter Trips
Lemur Tours in Lokobe Special Reserve
The turquoise waters around Nosy Be are scattered with the less touristy islands of Nosy Komba, Nosy Sakatia, Nosy Iranja, Nosy Mitsio and Nosy Tanikely, among other small islands.
The volcanic Nosy Komba, also known as Lemur Island, is a haven for exotic black lemurs, where villagers and wildlife co-exist in harmony.
The small Nosy Sakatia is one of the most beautiful islands off Madagascar. Sakatia is less changed by tourism, featuring only footpaths and virgin forest. The lush Nosy Sakatia, also known as Orchid Island, offers superb snorkelling, scuba diving and hiking.
Nosy Tanikely is a tiny uninhabited island hosting a small marine reserve that offers excellent snorkelling. Nosy Iranja and Tsarabajina are remote gems, ideal for solitary and private beach time. Nosy Iranja consists of two small islands joined by a sandbank and is a great place to see turtles, crabs and a variety of birds.
Antsiranana (Diego-Suarez) - Madagascar's secret paradise
They say that the Antsiranana area is Madagascar's best-kept secret when it comes to worthwhile travel destinations. The less tourist crowded capital of the region is an easy-paced base for nature lovers wanting to explore off the beaten track.
Antsiranana is a deep-sea port city with a lazy French colonial feel, friendly locals and lively markets. Staying in Diego Suarez is cheaper than Nosy Be, and the city is close to top wildlife and beach spots with scenic bays on its outskirts. The city offers travellers plenty of outdoor activities, such as quad biking, hiking, mountain biking and kite surfing in the surrounds.
Both Montagne d'Ambre National Park and Ankarana National Park are located near Antsiranana, making it a convenient access point for exploring these pristine wilderness areas.
Montagne d'Ambre National Park - tropical rainforest, waterfalls and lakes
Amber Mountain National Park is named after the amber resin that seeps from the trunks of certain trees (reaching up to 40m tall). The mountain park is located in the far north of Madagascar, about 40km's south of Antsiranana.
Established in 1958, Montagne d'Ambre Forest is a magical place of flowing waterfalls, crater lakes and amazing creatures. This beautiful area is a nature lovers unspoilt paradise, ideal for hiking and getting in touch with mother earth. This is one of the most biodiverse spots in Madagascar, which is saying something considering how biologically diverse the country is. The park is also known for its high endemism, home to species that are found only here.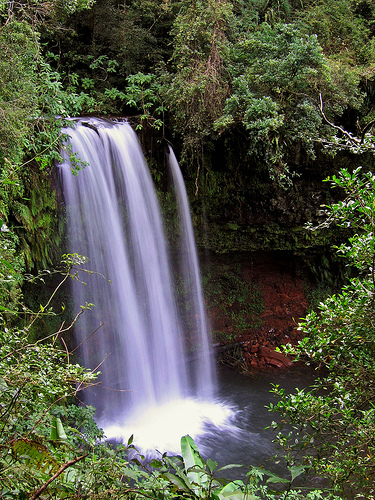 The national park lies less than an hour's drive from Diego Suarez and is inhabited by about 75 bird species, 25 species of mammals and 59 species of reptiles - in an area of only 182 km² (18200ha).
This unique pocket of montane rainforest is found in an otherwise dry region and is separate from the rainforest belt of Madagascar, known as "Madagascar Sylva". Flora includes a mix of deciduous forest and rainforest (montane and mid-altitude), with orchids, pandanus, palms and various ferns; as well as very rare rainforest baobabs.
Exploring the numerous walking trails through the quiet forests, you may spot a diverse range of creatures, from the world's smallest chameleons to Ringtail Mongoose. Common sightings include the leaf-tailed gecko and lemurs (Sanford's brown and crowned). Tree boas, lizards, chameleons, frogs, butterflies and pill millipedes also inhabit Montagne d'Ambre National Park, along with seven species of lemurs.
Montagne d'Ambre National Park is a birding haven with species including the Amber Mountain Rock Thrush, endemic to this area. The Madagascar Crested Ibis, White-throated Rail, Henst's Goshawk, Cuckoo-shrike, Nelicourvi Weaver, Ground Roller, Dark Newtonia and Madagascar Blue Pigeon, as well as Red-tailed and Blue Vanga are also found in Montagne d'Ambre. The Madagascar fish eagle, one of the world's rarest birds of prey is also sighted here.
Ankarana Reserve
Ankarana, a one-of-a-kind place of unusual geology with networks of underground caves, passages and rivers that beckon the adventurous explorer. The reserve lies about 108 km south of Antsiranana and consists largely of an ancient limestone plateau, said to be around 150 million years old. The Ankarana area is a sacred place for the local people, with several Antakarana kings buried in the caves of this limestone massif.
Over 100 km's (62 mi) of cave corridors have been mapped in the rugged Ankara massif. Where erosion has exposed the underlying rock, pinnacle formations called tsingy have formed. Ankara is famous for the tsingy channels and ridges etched into the limestone rocks. The jagged tsingy landscape rises out of the forest, forming an incredible sight that is seemingly out of this world. The plateau slopes gently to the east, ending abruptly in a sheer cliff called the "wall of Ankarana" along the western edge.
The rocky crevices and densely vegetated canyons of Ankarana provide shelter to a rich variety of fascinating animals. Ankarana is said to host the highest density of primates found in any forest across the globe. Lemur species found here include Sanford's brown lemur, crowned lemur, Perrier's black lemur, the northern sportive lemur and dwarf lemur. This reserve is also home to various chameleons and geckos, and even cave-dwelling crocodiles.
The winding pathways of Ankarana make for challenging walking, but the stunning views and wild creatures make it all worthwhile.
Embark on a once-in-a-lifetime journey in Madagascar, staring in Antananarivo or compare our well-priced Madagascar Tours.