Know what you are sighting and get some background info on the species and its behaviour. These mobile applications help you to locate, identify and understand the wild animals and birds that you encounter in the bush.
The sheer volume of information, maps and photographs that you can now carry with you (paper free) into the bush is simply amazing!
Top 6 Wildlife Apps for African Safaris
1. African-Safari Wildlife Guide
2. The Kingdon Guide to African Mammals
3. Audubon African Wildlife
4. Sasol eBirds of Southern Africa
5. The David Sheldrick Wildlife Trust's app
6. Africa: Live app
---
1. African Safari Wildlife Guide
... the ultimate wildlife app for an African Safari.
One of the major strengths of this app is that you can download the images and articles onto your mobile device before you go on safari. This means you can access all the info without an internet connection - often absent in the heart of the African bush.
This application by Oren Meiri includes:
Up-to-date Wikipedia articles and full-sized images of the main wildlife species found on safari in Africa
Categories for wildlife groups - cats, elephants, rodents and squirrels, rhinos etc
An Africa category with general Wikipedia articles about Africa and safaris
Main Features:
Wikipedia articles cached with large-sized images
Image Picker
Search capabilities
Landscape & portrait modes
Wikipedia pages formatted for iPhone display
Recommendations:
Use this app with the African Birds application providing similar information on the birds sighted on African Safaris
Download the whole Wikipedia Encyclopedia application for natural history information and a huge array of articles on African culture, politics and history (does not include photos)
Use on: iPhone and Ipad
Price: About R100
Download
---
2. The Kingdon Guide to African Mammals
... based on the classic Jonathan Kingdon's Pocket Guide to African Mammals, considered an essential field guide to African mammals
The best feature of this app is that it includes information about all major land mammals as well as generic information about smaller mammal groups. It is seen as an essential field guide for anyone traveling to and living in Africa, with an interest in wildlife, of course.
This application by mydigitalearth.com includes the following regions and countries:
Southern Africa - South Africa, Botswana, Namibia, Zimbabwe and Mozambique
East Africa - Malawi, Tanzania, Kenya, Uganda, Zambia, Rwanda and Burundi
North, Central & Western Sahara - Niger, Mauritania, Mali, Libya, Egypt, Tunisia and Sudan
Central Africa - Chad, D.R.C, Congo, Angola, Central African Republic, Cameroon and Gabon
Northwestern Coast - Togo, Sierra Leone, Senegal, Liberia, Senegal, Liberia, Ivory Coast, Guinea, Ghana and Nigeria
Main Features:
Interactive access to images, distribution maps and descriptions of over 460 species found across Africa
Country and region specific selection filters - list only species in the selected region
Personal species list - stores your mammal sightings, saving them to your device* (ability to upload list coming soon)
Use on: iPhone, iPod touch and iPad.
Price: About R156
---
3. Audubon African Wildlife
... most comprehensive guide with in-depth information on over 475 birds, mammals, and reptiles.
The Audubon African Wildlife app contains in-depth information on 164 mammal species, 284 birds species and 24 species of reptiles, providing fantastic high-quality images and range maps.
This app by Green Mountain Digital includes:
Range maps, photographs and species notes
Africa's best nature reserves and wildlife areas
Notes on physical geography, climate and habitat zones
Reference section on where to see wildlife, conservation status and habitat details
Main Features:
Professional color photographs for every species (high quality)
Detailed range maps showing species distribution
In-depth descriptions of species, with accurate information on appearance, habitat, and more
Real time access anywhere - without internet connection
Search by shape, family or common name
Information about the biogeography of Africa
An extensive list of where to see wildlife by countries and game reserves
Detailed reference information on the IUCN status of wildlife detailing type of threat
Use on: iPhone, iPod touch and iPad.
Price: About R100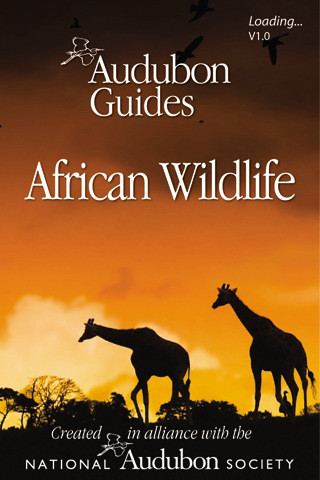 Download
---
4. Sasol eBirds of Southern Africa
... an interactive version of the best-selling Sasol Birds of Southern Africa field guide designed to enhance birding in Southern Africa.
Main Features:
Browse through species
Images, distribution maps and text descriptions of over 950 bird species found in the Southern African region.
Sound clips of the calls for over 630 bird species
A "Smart Search" that allows you to easily identify a bird using beak shape, bird size, bird colour and habitat.
Regional selection in Southern Africa to show birds in your chosen region
Compare two birds on one screen (including calls) to see them side-by-side
Save function for personal bird lists on your device (can be exported via email)
A Bird Index in common names in English and Afrikaans or with Scientific bird names
Use on: iPhone or iPod Touch and iPad
Price: R240
Download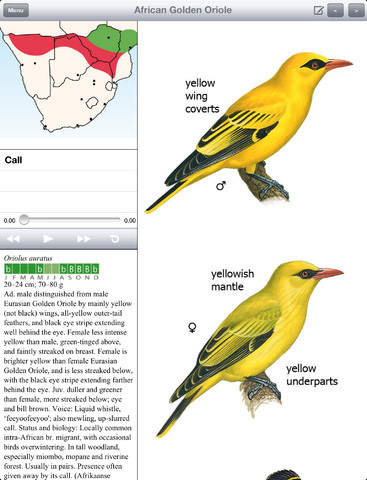 ---
5. The David Sheldrick Wildlife Trust's App
... keep updated and see the latest orphaned baby elephants at the charity's Nursery in Nairobi.
This is a fantastic free app that enables you to foster an orphaned elephant and keep track of your orphan, as well as getting updates about the Orphan Project and The David Sheldrick Wildlife Trust.
Main Features include:
Rescue videos, photo gallery and orphan profiles
Orphans News section from the keepers diary (magazine format)
Mapped rescue locations
Unique elephant ringtone
Latest news feed about the orphans' project at The David Sheldrick Wildlife Trust
Use on: iTunes library, iPad and iPhone / Android
Price: FREE
---
6. Africa: Live App
... share and view real-time African wildlife sightings on the move.
The app features a live map of game sightings in various safari areas, such as Kruger Park, and allows you share add wildlife sightings instantly and easily. The application is really useful on safari and in wildlife conservation research.
The Africa: Live app by Satpack Travel includes:
Extensive reference materials - safari animal field guide, tips and contacts for safari travel
Live maps, photos and sighting locations
Database input - app catalogues, analyses and shares data with conservation organisations to support wildlife audits
Main Features:
Real time map showing your location and the location of recent game sightings (only one of its kind for Africa)
Interactive markers showing the details, descriptions and a photo of sightings
Add sightings and photo upload function (rhino sightings do not display, due to the poaching crisis)
Live social media stream of relevant sightings (add posts from your social media accounts)
Dynamic Q&A. If you're not sure what it is you're looking at, or what it is doing just ask us via the map and we'll answer (or if we can't, our Facebook friends will!).
Use on: Android and Apple Smartphones
Price: FREE
Download
---
Two More Highly Recommended Apps
---
Wildlife of Southern Africa
... an easy-to-use interactive version of the popular Wildlife of Southern Africa field guide.
This app is a great resource for nature lovers visiting any part of the Southern African region. The reviews are not all good due mostly to poor quality images and graphics - so this one, although handy, is not on the top 6 list.
Wildlife of Southern Africa includes the following categories:
Spiders and other arachnids
Insects
Freshwater fishes
Frogs and Reptiles
Birds and Mammals
Grasses, sedges, ferns and fungi
Wild flowers and Trees
Main Features:
Fast, user-friendly interface: quickly sort through all categories
Information on over 2500 species found in the region
Over 1600 images of the species
Quick search - "Easy ID" feature to find plants
Species lists in common and scientific names
Use on: iPhone, iPod touch and iPad / Blackberry / Android
Price: R91.68 for Android and R79.99 for Apple devices and Blackberry
Download