Discover Africa's Best National Parks in its 5 Top Safari Countries to get ideas on where to go on your wildlife safari and why.
Top 5 African Safari Countries:
Kenya

Tanzania

Botswana

South Africa

Namibia
These 5 top safari countries are rated as the best-loved and most visited safari destinations in Africa.
Africa's Best National Parks by Country:
The Masai Mara National Reserve is widely considered to be the greatest game park on earth. It is the most popular game park in Kenya, Africa's top safari destination.
Masai Mara is the quintessential safari destination - the real 'Out of Africa' scene of endless savannah plains teeming with wild animals. Even the seasoned safari-goer is struck by the wild African spirit of Mara.
One of the main highlights of visiting this legendary 1800 km² wildlife reserve in East Africa, is The Great Migration. This annual wildlife spectacle sees millions of wildebeest, zebra and gazelle stampeding across the plains in search of greener grass, from around July to October.
This top African game park is also home to large predator populations, including numerous lions, leopards, cheetahs and jackals, as well as large numbers of other wild animals and over 450 bird species.
Encountering the local Maasai tribes in their bright red robes, is another highlight of visiting Masai Mara Reserve. These proud and striking-looking traditional people live in and around the Masai Mara, coexisting with its wildlife.
Serengeti National Park in northern Tanzania is a classical safari destination, home to some of the biggest populations of mammals in the world.
The annual Wildebeest Migration is also one of the major attractions in the pristine Serengeti Park, covering 15000 km² of endless plains dotted with lone trees. Every year, from December to July, vast numbers of hoofed animals migrate across the Serengeti Ecosystem, moving between Masai Mara and the larger Serengeti Park, which share unfenced borders.
Large wildlife populations inhabit Serengeti, with the animals themselves being robust. The Big Five of Africa are found in plenty here, with an abundance of lions to be seen. Serengeti is actually considered to host Africa's largest population of lions. More than 500 species of birds are also found here, including many raptors.
The vast plains, resounding silence and open horizons of the Serengeti Park make for an unparalleled African safari experience of a lifetime. Given the sheer scale of this magnificent wilderness area, you will encounter fewer tourists on game drives than in some of the other top national parks in Africa.
Chobe National Park in northern Botswana is home to some of Africa's highest concentrations of game, with the region boasting the largest continuous elephant population in Africa.
The 12000 km² Chobe Park covers a diversity of ecosystems, ranging from arid plains and dry channels to fertile grasslands, dense woods and watery swamps. Its diverse habitats support a high density and rich variety of wild animals and birds, most notably the huge elephant herds that number over 40000 individuals.
Chobe Park is known for its excellent game viewing boat cruises along the Chobe River, which attracts plenty of animals and birds. In the southwestern area of Chobe lies the Savuti marsh, hosting some of Africa's highest year-round concentrations of wildlife, especially predators and elephant bulls.
Winter (April to October) is the best time to go game viewing in Chobe Park as herds of zebra, antelopes, buffalo, giraffe and wildebeest gather at the water sources.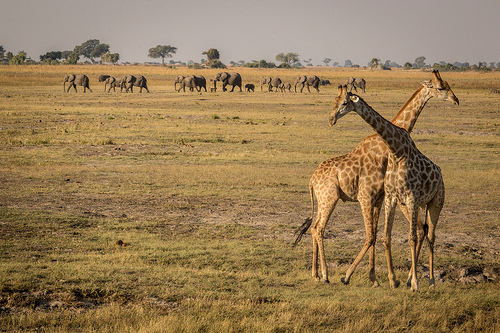 The untamed Okavango Delta, also located in northern Botswana, is a top safari destination in Africa, although not a national park. This pristine delta offers a unique safari adventure and is often visited in combination with Chobe Park.
Kruger National Park is South Africa's top safari destination and one of the world's finest game parks.
Covering around 19485 km² of untamed bush, Kruger is home to an unrivalled diversity of wildlife. Inhabitants include 145 mammal species, the most mammals found in any game park in Africa, along with nearly 500 bird species.
This world-famous national park is home to Africa's Big Five, as well as a bewitching array of other wild animals, from hippos, crocodiles and cheetahs to wild dogs, giraffes and numerous antelope species.
Kruger National Park is a well-maintained and easily accessible wildlife haven, renowned as a leader in conservation practises.
Etosha Park is Namibia's top game park, regarded as one of the best national parks in Africa.
This unique national park covers some 22270 km² of wilderness in northern Namibia, and is centred around the stark-white Etosha Pan with its dancing mirages and wide horizons.
The strikingly beautiful setting of Etosha is ideal for spotting wildlife at watering holes, given the open and arid landscape.
Etosha Park is home to some rare and unusual wild animals, as well as the Big Five of Africa, boasting the tallest elephants on the continent. After good rains this cracked-clay land transforms into expanses of blue-green algae, thick woodlands, and lush grasslands, attracting plenty of game and birds, including thousands of flamingos and water birds.
Common wildlife sightings include rhinos, giraffes, elephants, lions, a variety of antelopes and even cheetahs and leopards. Winter (April to October) is the ideal time to go game viewing, as the vegetation is sparse and animals congregate at the watering holes.
This list of Africa's 5 Best National Parks in the 5 Top Safari Destination Countries provides an introduction to African wildlife safaris and is a good starting point for planning your trip. Each of the national parks offers a unique safari experience with its own strengths and beauty, making it one of Africa's finest game reserves.
These 5 Best National Parks can easily be combined with nearby safari highlights and game parks within the top African safari countries. For instance; Masai Mara and Amboseli in Kenya, Chobe Park and the Okavango Delta in Botswana, or Serengeti and the Ngorongoro Crater in Tanzania.
Alternatively you can make the most of your African safari adventure by visiting several, if not all, of the top national parks on one epic African journey!
For affordable safaris to the Best National Parks in Africa - you can contact us.