10 Best Places to See Elephants in Africa
Listed below are some of the best places for sighting savanna elephants, found in eastern and southern Africa.
The highest densities of this subspecies of African elephants are found in Botswana, Tanzania, Zimbabwe, Kenya, Zambia and South Africa. (from WWF website)
1. Botswana - Chobe National Park & Delta
home to one of the largest concentrations of elephants in Africa
estimated at around 70 000 elephants in the 11,700 km² Chobe Park
also said to host the largest elephants in terms of body size
elephants are relatively used to encountering tourists
Botswana - Okavango Delta
the number of elephant sightings are increasing, as more elephants migrate from Chobe, Savuti and Linyanti into Moremi and other parts of the Okavango Delta.
Northern Botswana is home to the largest continuous population of savannah elephants in Africa, with the population estimated at around 150 000 elephants! The elephants in northern Botswana are free to roam over 80,000km² of land.
In the dry season elephants congregate at the permanent water sources - Chobe and Lynanti/Kwando Rivers, and the Okavango Delta. In the wet season the elephants disperse with their range expanding to include food sources at water-filled pans.
2. Tanzania - Selous Game Reserve
over 40 000 elephants in the 80 000 km² Selous ecosystem of southeast Tanzania (includes Selous Game Reserve, Mikumi National Park and buffer areas)
Selous is home to over half of Tanzania's elephant population
one of the largest elephant populations in the world
3. South Africa - Kruger National Park
about 15 000 elephants in an area of 19,480 km² in South Africa
elephants in Kruger Park are quite used to encountering tourists
4. Kenya - Tsavo East & West National Park
Tsavo East & West, the largest protected area in Kenya, host the highest number of Kenya's estimated 35 000 elephants
the combined Tsavo-Mkomazi ecosystem of 46 000 km² hosts over 12 570 elephants
5. Zambia - South Luangwa National Park
roughly 10 000 elephants inhabiting the 9050km² South Luangwa Park
large elephant herds, up to 70 individuals strong
encounter elephants on thrilling walking safaris
20 to 35 000 elephants in the Luangwa Valley / lower Zambezi River area in Zambia
6. Kenya - Amboseli National Park
known as the best place in Africa to get up close to free-ranging elephants
around 1 500 elephants in just 392 km²
excellent photographic opportunities of big bull elephants with Mount Kilimanjaro in the background
7. Northern Tanzania Safari Circuit - Serengeti National Park, Tarangire National Park & Ngorongoro
Tarangire - 2 500 individuals in the Tarangire ecosystem of 20 000 km² in Tanzania
Ngorongoro Crater - big, old bull elephants with large tusks are commonly seen in the Crater
Serengeti Park - over 2000 elephants on the 14 760 km² plains
Serengeti's neighbouring Masai Mara National Reserve is also home to large herds of elephants that roam the scenic plains of this 1510 km² Kenyan game park.
8. Kenya - Samburu National Park
over 900 individual elephants resident in or visiting the Samburu Reserve throughout the year.
about 5 400 elephants in the combined Samburu-Laikipia ecosystem of around 28 490 km² (11 000 square miles)
9. Namibia - Etosha National Park
herds of elephants congregate at the waterholes of Etosha in the dry season
over 2 000 elephants in the 22 270 km² park
flat plains and low vegetation make for easy sightings of family groups and bulls
10. South Africa - Addo Elephant National Park
home to one of the densest African elephant populations on earth
estimated at around 550 elephants in the 1 640 km² Addo Park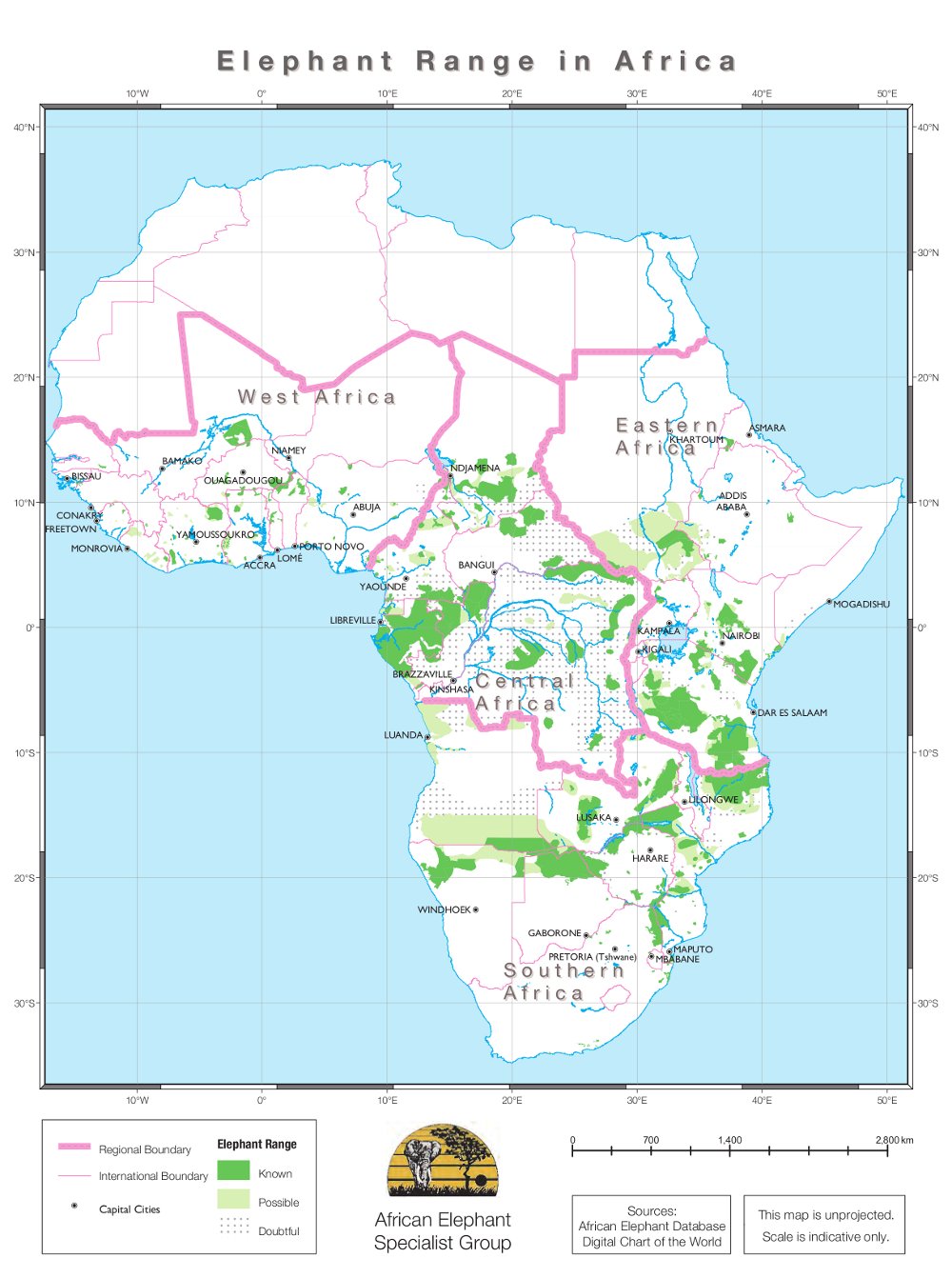 Check out National Geographic's Elephant feature.
To find an affordable safari to Africa's top elephant parks and reserves contact African Budget Safaris.