10 Best Places to See Elephants in Africa
Where are the best places to see savanna elephants in the wild? The highest densities of this subspecies of African elephants are found in the wildlife areas of eastern and southern Africa. The top game parks for seeing elephants are found in Botswana, Tanzania, Zimbabwe, Kenya, Zambia and South Africa.
Northern Botswana is home to the largest continuous population of savannah elephants in Africa, with the population estimated at around 150 000 elephants! The elephants in northern Botswana are free to roam over an area of about 80,000km².
Chobe Park - Botswana
Chobe elephants - Tim Copeland
home to one of the largest concentrations of elephants in Africa
estimated at around 70 000 elephants in the 11,700 km² of Chobe Park
also said to host the largest elephants in terms of body size
elephants are relatively used to encountering tourists
Okavango Delta - Botswana
Delta elephant at camp -
the number of elephant sightings is increasing, as more elephants migrate from Chobe, Savuti and Linyanti into Moremi and other parts of the Okavango Delta.
In the dry season, elephants congregate at the permanent water sources - Chobe and Lynanti/Kwando Rivers, and the Okavango Delta. In the wet season, the elephants disperse with their range expanding to include food sources at water-filled pans.
Dusty Chobe elephants -
Best Safaris to See Elephants in Chobe & the Okavango Delta:
Take a look at more options - Chobe Safaris and Okavango Delta Safaris (many of the tours visit both areas).
Hwange elephants - Joepyrek
one of Africa's elephant strongholds
huge population of about 44 000 elephants in an area of 14 651 km² (AG 2017)
often sight hundreds of elephants in one day
Ready to see more elephants than you can count? Head to Hwange on one of our Budget Hwange Safaris.
Kruger elephants -
about 15 000 elephants in an area of 19,480 km² in South Africa
elephants in Kruger Park are relatively habituated
walking Safaris in Greater Kruger
One of the best things about viewing elephants in Kruger is that you can take a walking safari in one of the private reserves of Greater Kruger to see these giants on foot!
Our 4 Day Kruger Park Walking Safari is an excellent one for seeing elephants on foot in the bush.
Kruger walking safari -
We can take you on all kinds of Budget Kruger Tours - short to long, camping to lodge, walking to 4x4 and more.
Tsavo elephants - Elen Nivrae
Tsavo East & West, the largest protected area in Kenya, host the highest number of Kenya's estimated 35 000 elephants
the combined Tsavo-Mkomazi ecosystem of 46 000 km² hosts over 12 570 elephants
Go 4x4 in Tsavo and the famous Masai Mara, as well as Amboseli (also an elephant hotspot) on this Kenya Parks & Masai Mara Fly-in Lodge Safari or browse our Budget Tsavo Safaris.
Lower zambezi elephants -
roughly 10 000 elephants inhabiting the 9050km² South Luangwa Park
large elephant herds, up to 70 individuals strong
20 to 35 000 elephants in the Luangwa Valley / lower Zambezi River area in Zambia
encounter elephants on thrilling walking safaris
South Luangwa is a gem for walking safaris and as with Kruger, is ideal for getting up close to elephants on foot. This 7 Day South Luangwa Tented Camps Walking Safari is a really special find.
Luangwa walking safari elephants -
If walking is not your thing then there are plenty of other South Luangwa Safaris to choose from.
Amboseli elephants - Regina Hart
reputed to be the best place in Africa to get up close to free-ranging elephants
around 1 500 elephants in just 392 km²
herds of up to 100 elephants can be seen
home to many big, old bull elephants and tuskers
excellent photographic opportunities of elephant herds with scenic Mount Kilimanjaro in the background
Amboseli elephants with Kilimanjaro -
To get a shot at the classic Amboseli image of African elephants with Kilimanjaro as a backdrop, embark on one of our Amboseli Budget Safaris. This fantastic Tsavo, Amboseli & Mara Kenya Lodge Safari is a luxury camping tour that flies to Masai Mara and back.
7. Northern Tanzania Safari Circuit (Serengeti National Park, Tarangire National Park & Ngorongoro Crater)
Tarangire - 2 500 individuals in the Tarangire ecosystem of 20 000 km² in Tanzania (big herds of about 300 elephants strong)
Ngorongoro Crater - big, old bull elephants with large tusks are often seen in the Crater
Serengeti Park - over 2000 elephants on the 14 760 km² plains
You can experience the famous Northern Tanzania Safari Circuit on one of our budget tours, like this well-priced Northern Safari Circuit to Zanzibar Overland Camping combining top African beach and bush Meccas.
Serengeti elephant herd - Mike
Serengeti's neighbouring Masai Mara National Reserve is also home to large herds of elephants that roam the scenic plains of this 1510 km² Kenyan game park. Masai Mara forms part of the Serengeti Ecosystem.
Masai Mara elephants -
Our Masai Mara & Serengeti Overland Camping Safari takes you to both iconic African reserves.
over 900 elephants resident in or visiting the Samburu Reserve throughout the year.
about 5 400 elephants in the combined Samburu-Laikipia ecosystem of around 28 490 km² (11 000 square miles)
Samburu elephants - U.S. Fish and Wildlife Service Headquarters
If you are serious about elephant watching go wild on this Kenyan Game Parks 4x4 Lodge Safari which explores Tsavo National Park, Amboseli National Park and Samburu National Reserve (all three of Kenya's best parks for seeing elephants)!
herds of elephants congregate at the waterholes of Etosha, especially in the dry season
over 2 000 elephants in the 22 270 km² park
flat plains and low vegetation make for easy sightings of family groups and bulls
Etosha elephants and zebras - simonsimages
Etosha is one of Southern Africa's leading safaris destinations offering exceptional wildlife viewing. There are plenty of budget-friendly Etosha Safaris for families, solo travellers, small groups and more.
Addo elephants - Mark de Scande
home to one of the densest African elephant populations on earth
estimated at around 550 elephants in the 1 640 km² Addo Park
Many of our South African tours include safaris to Addo Elephant Park as part of itineraries (6 days or more) to the Graden Route from Cape Town, Durban or Port Elizabeth.
Elephant Range Map of Africa
The map below shows places where African elephants (forest and savannah sub-species) are found in the wild.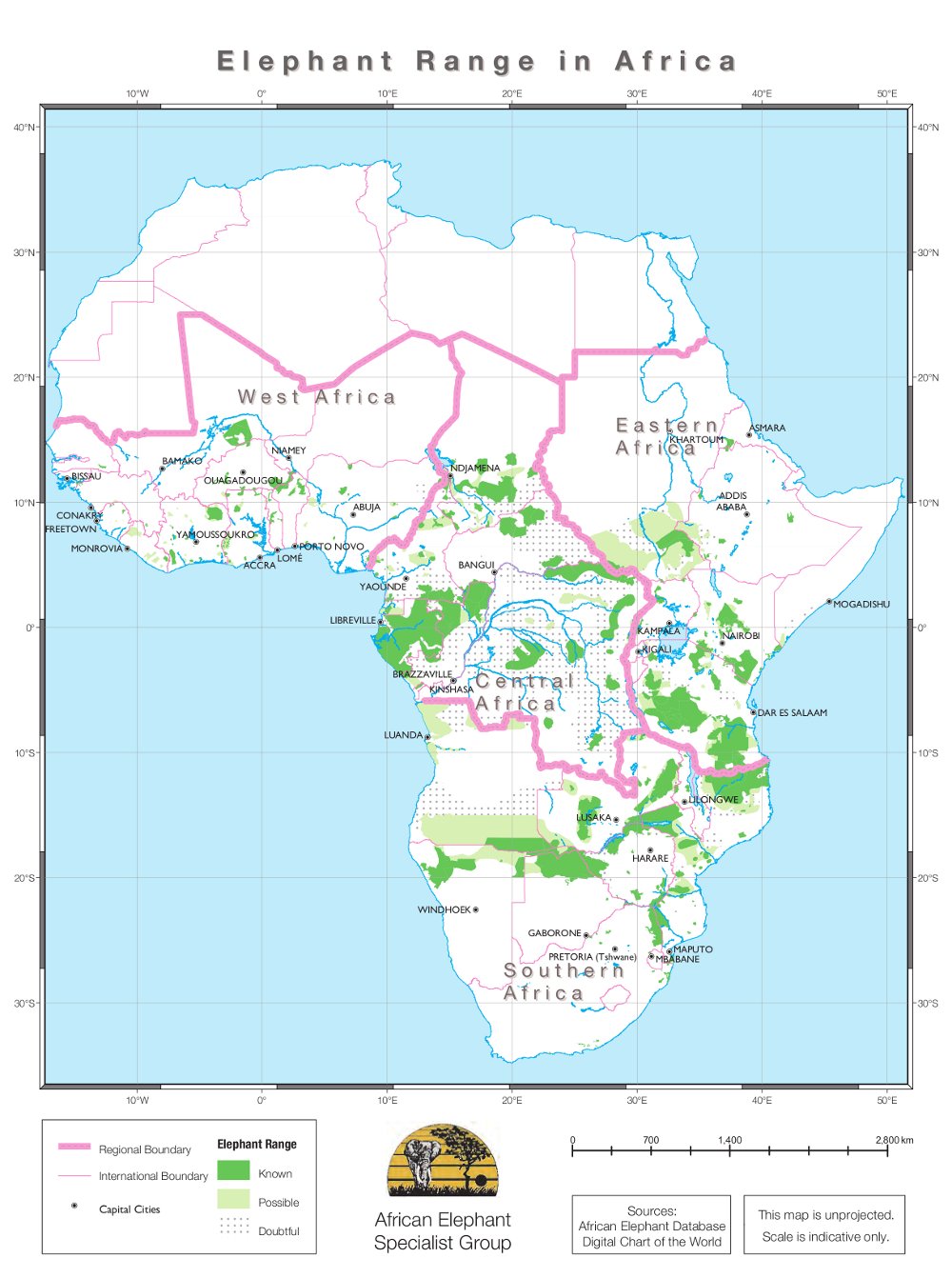 One more top place to see African elephants worth special mention:
Selous Game Reserve - Tanzania
over 40 000 elephants in the 80 000 km² Selous ecosystem of southeast Tanzania (includes Selous Game Reserve, Mikumi National Park and buffer areas)
Selous is home to over half of Tanzania's elephant population
one of the largest elephant populations in the world
See the elephants of Selous and Ruaha National Park (also an elephant stronghold) on our Southern Tanzania Budget Lodge Safari or Southern Tanzania Budget Camping Safari.
More about elephants in this National Geographic Elephant feature or on the WWF African elephant page.
Find the perfect affordable safari to see elephants in Africa, contact African Budget Safaris.
South Luangwa camp -