South Africa is one of the few African countries that offers several malaria-free safari options.
Unfortunately, most countries in southern and central Africa are considered high-risk malaria areas, but there are some areas in southern Africa that are malaria-free or at least low-risk malaria areas. Here are some malaria-free game parks in South Africa.
Malaria Free Game Parks in South Africa
Addo Elephant National Park in the Eastern Cape
Private Game Reserves in the Eastern Cape
Tsitsikamma National Park on the Garden Route
Other Garden Route Reserves & National Parks
Pilanesberg National Park (& Sun City) near Johannesburg
Madikwe Game Reserve in North West Province
Budget South African Safaris to Malaria Free Areas:
Anti-malaria precautions are not necessary for South African Safaris limited to Cape Town, the Garden Route, Durban, Johannesburg, Pilanesberg or destinations in any of the malaria-free provinces. Please note that if these South African tours to malaria-free areas also visit malaria risk areas and game parks, then anti-malaria medication is recommended.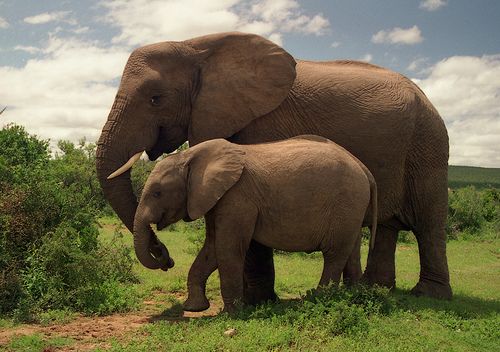 Malaria Free Provinces of South Africa:
Western Cape
Eastern Cape
Free State
Gauteng
Although the North West and Northern Cape Provinces are also considered malaria free, there are in fact some low-risk areas along the Molopo and Orange Rivers, near the Botswana and Namibia borders. These low-risk areas of the Kalahari Desert include Augrabies Falls and the Kgalagadi Transfrontier Park, where seasonal precautionary measures to prevent mosquito bites are recommended.
The Kingdom of Lesotho, a small landlocked country surrounded by South Africa, is also malaria free. Although it is not a wildlife safari destination, Lesotho is a travel highlight with its Pony Trekking, beautiful mountain scenery and cultural richness.
Check out our Budget Lesotho Safaris.
Note: The Lesotho Tours are only malaria free if they do not also visit Kruger Park and Swaziland (or other malaria areas).
National Parks in Low-Risk Malaria Areas
Another option is to go on a wildlife safari in a low-risk malaria area, preferably during the low-risk seasons outlined further down.
Augrabies Falls and the Kgalagadi Transfrontier Park (Kalahari Gemsbok National Park section in South Africa) are low-risk areas. Malaria is only rarely transmitted in these Kalahari areas. To avoid being bitten by mosquitoes take the necessary precautions (see below).
Royal Natal National Park (Ukhahlamba Drakensberg National Park) is in the malaria free Drakensberg Mountain Range, BUT the surrounding low-lying coastal areas are considered intermediate to low risk malaria areas. Anti-malaria precautions are therefore recommended (take malaria prophylaxis).
Southern African Game Parks in Malaria Areas
It is advisable to take anti-malaria precautions in the following risk areas:
Kruger National Park & Greater Kruger Game Reserves (high-risk malaria area)
Hluhluwe-Umfolozi Park (intermediate to low-risk area)
Isimangaliso or Greater St. Lucia Wetland Park (intermediate to low-risk malaria area)
Mlilwane Nature Reserve in Swaziland (low risk in western Swaziland to high Malaria risk in eastern areas)
All game parks in the Lowveld of Mpumalanga and Limpopo Provinces, and north-eastern KwaZulu-Natal (Maputaland coast) fall in malaria territory. Check with your travel consultant to determine if anti-malaria mediation is recommended, especially in the malaria seasons.
If you plan on going scuba diving in the northern part of KwaZulu Natal (or other malarial areas) then you will need to avoid certain anti-malaria medications, including Larium. Malaria prophylaxis containing mefloquine can cause negative side-effects when combined with nitrogen. Be sure to consult your doctor to ensure that prophylaxis suitable for safe scuba diving is prescribed.
High and Low-Risk Malaria Seasons
Low-Risk Malaria Season in South Africa:
From the end of May to early September during the cold dry winter months.
May to late August are considered the best months for game viewing in and around Kruger National Park as the malaria risk is lower and the bush is less dense.
High-Risk Malaria Season in South Africa:
From late September / early October to May, in the wet summer months.
Throughout the year for high-risk people
Africa Map of Malaria Areas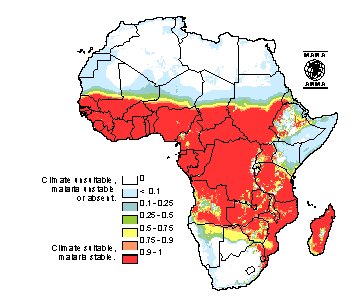 Malaria Risk Countries in Africa
Other African countries all have a malaria risk, especially during the rainy seasons, even though the risk in some areas is very low.
Botswana -
From November to May-June in the northern parts of the country: Boteti, Chobe, Ngamiland, Okavango, Tutume districts/ subdistricts.
Malawi -
Entire country throughout the year.
Mozambique -
The whole country throughout the year.
Namibia -
From November to June in the following regions: Ohangwena, Omaheke, Omusati, Oshana, Oshikoto and Otjozondjupa. Risk throughout the year exists along the Kunene river and in Caprivi and Kavango regions.
Swaziland -
Throughout the year in all low veld areas (mainly western parts).
Zambia -
Throughout the year in the whole country, including Lusaka.
Kenya -
Most of Kenya is a high-risk malaria area throughout the year, with some low-risk areas (including Nairobi and the highlands).
Tanzania -
The entire country is high malaria risk throughout the year, except for areas above 1800m in altitude.
Zimbabwe -
From November through June in areas below 1200m and throughout the year in the Zambezi Valley. In Bulawayo and Harare, the risk is negligible.
People at High Risk of contracting malaria:
People at high risk who should take extra anti-malaria precautions are:
children under 5
adults over 65
pregnant women
people on long term steroids
people receiving chemotherapy
people with Aids / HIV, porphyria or epilepsy
people who have had their spleens removed
chronically ill patients
immuno-compromised people
Anti-malaria Precautions in low-risk areas and seasons include:
insect repellent creams (lotions) and sprays
mosquito netting (screens) over windows and doors
mosquito nets over beds or camping mattresses
light-coloured long sleeves, long pants and socks
staying indoors after dusk and before dawn
spraying insecticide in your accommodation (if necessary)
Signs of Malaria Infection
It is advised that you seek immediate medical attention if you have flu-like symptoms for up to six months after visiting a malaria area.
Flu-like symptoms are common symptoms of malaria. Including fever, rigours, headache, sweating, fatigue, myalgia (back and limb pain), abdominal pain, diarrhoea, appetite loss, a cough, and nausea and vomiting.
In young children, malaria symptoms include fever, lethargy, poor feeding and vomiting.
Important Facts about Malaria:
Malaria symptoms may only develop 10-14 days after being infected by a mosquito bite (if a person has taken chemoprophylaxis, this period can be even longer).
Be aware that the symptoms of malaria may be delayed and prophylaxis is not a 100% guarantee against malaria.
Insist on diagnostic tests if you develop a fever a week or more after visiting malaria areas.
Malaria Myths
"I wasn't bitten, so I can stop taking my prophylaxis"
The female anopheles mosquito is known as 'the silent killer' for good reason. This mosquito does not buzz loudly, so it may go unnoticed. The reaction to the mosquito bite may also be mild enough to go undetected.
"Prophylaxis need only be taken while in a malaria area"
It is extremely important to continue taking malaria prophylaxis for 4 weeks after leaving a malaria area. Consult your doctor.
To find out everything you need to know about malaria see our blog post - Malaria Made Simple.
For more information about malaria-free safaris in Southern Africa or for information about malaria precautions and areas, contact African Budget Safaris.