Sizing Up your Overland Safari - cosy vs social
"How many people will be travelling together on this safari?" - a question you may want to ask before booking your trip.
This often asked question is a good one, because the size of your safari group does have an impact on the type of experience you will have in Africa.
Making the right choice for your needs, basically boils down to whether you are looking for a social trip with lots of mingling or a quiet experience with plenty of privacy. There are however a couple of other differences in overland tours of different sizes that are also worth considering.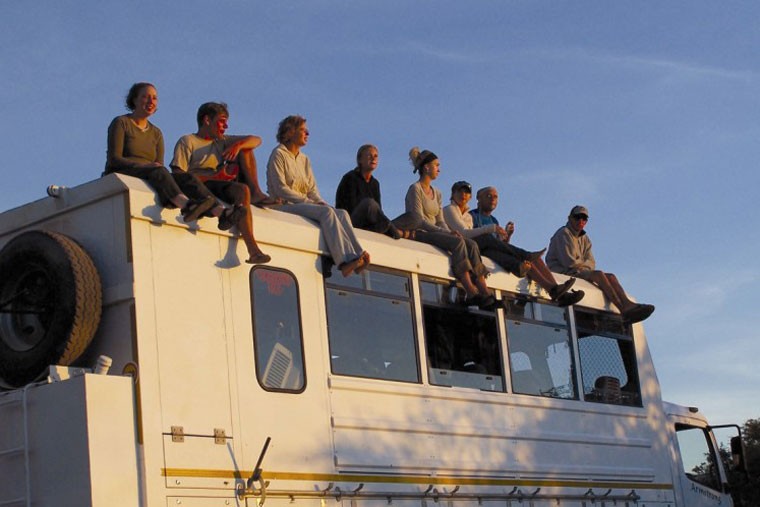 Smallest Overlanding Safaris
Type of Overland Safari with the Smallest Group Size: Exclusive Overland Safaris (Exclusive Camping Safaris)
Exclusive Overland Safari Group Size: Between 4 and 16 people.
The Exclusive Camping Safaris generally include two staff members (usually a guide and a cook) and provide a mix of fixed and camping accommodation. Most nights are spent camping in dome tents with a few nights in 2 - 3 star lodge accommodation along the way.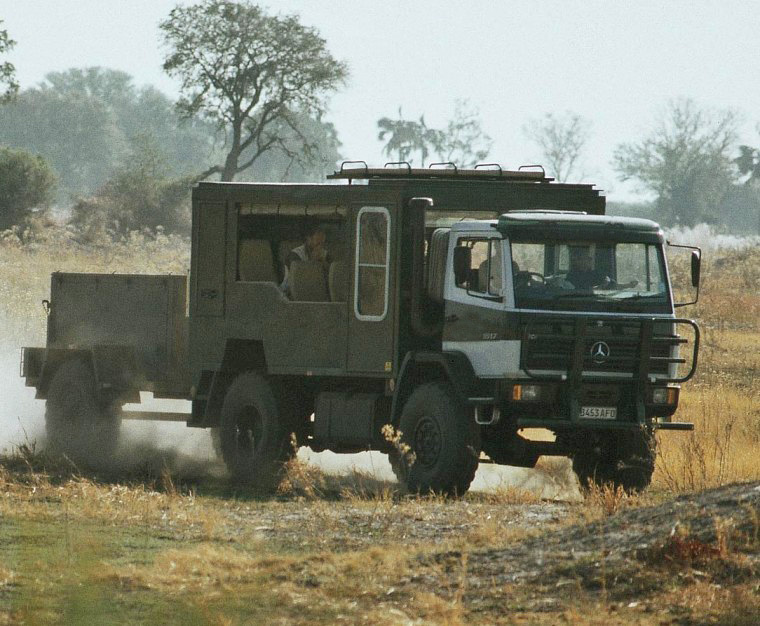 Pros of small group size:
More one-on-one time with the qualified safari guide/s
Quicker set up and break up of camp (guide assistance and less equipment/baggage)
A less crowded and more remote experience to sites and camps catering for small groups
Private and exclusive camps are usually selected for more privacy and quiet time in the bush
Semi-participation in meal preparation and general operations on the trip
More activities included in the tour price (fewer optional activities at extra cost)
Cons of small group size:
The small group safaris are not private safaris which means you will still be sharing the experience
With a smaller group the choice of company is more limited, so it's luck of the draw
For more exclusivity and the other benefits of small group travel - you pay a little more
Social butterflies will miss out on the comrade and jovial atmosphere of large group safaris
Medium to Large Overland Safaris
On the medium to large group safaris the social vibe of sharing your journey is a special element of the experience. The chance to meet new people from across the planet and make new friends, is all part of having an unforgettable trip in Africa.
For medium to large group sizes availability is usually more of a factor in choosing your tour as the differences in the actual safaris are minor. The Overland Camping and Accommodated Tours come in all shapes and sizes, so it's a matter of requesting size parameters if size counts for you.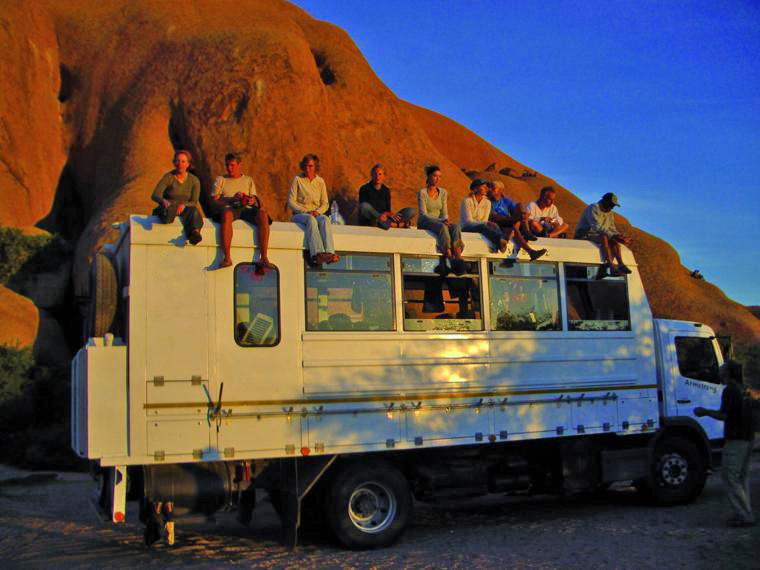 Type of Overland Safari with the Largest Group Size: Overland Camping Tours
Overland Camping Tour Group Size: Between 4 and about 24 people (some have a maximum of 29, but this is seldom reached)
Within the range of Overland Camping Safaris there are tours of 4 to 12 people, 4 to 16 and then the big guys at 4 to 24. When booking a Camping Overland Tour it is best to ask what the group size is of the particular tour you are interested in, or alternatively specify your preference so that a tour can be found to match your criteria.
Across the various group sizes of Overland Camping Tours you will be getting pretty much the same type of experience, with variations in the amount of participation and number of travel companions.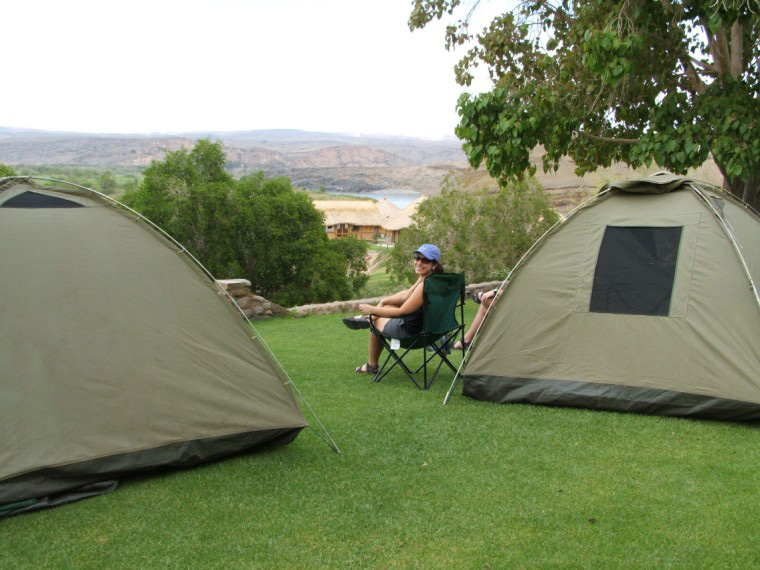 Accommodated Overland Tour Group Size: Between 4 and 18 people
These overlanding safaris are more or less the same as their camping counterparts, except that you stay in 2-3 star fixed accommodation. Accommodation is usually on a twin share basis in clean and basic, yet comfortable chalets, bungalows, traditional huts, permanent tents and at times youth hostels (backpackers).
The Accommodated Overland Tours are still one of the most affordable safari options, but they give you a little more style and comfort - a step up from standard camping accommodation.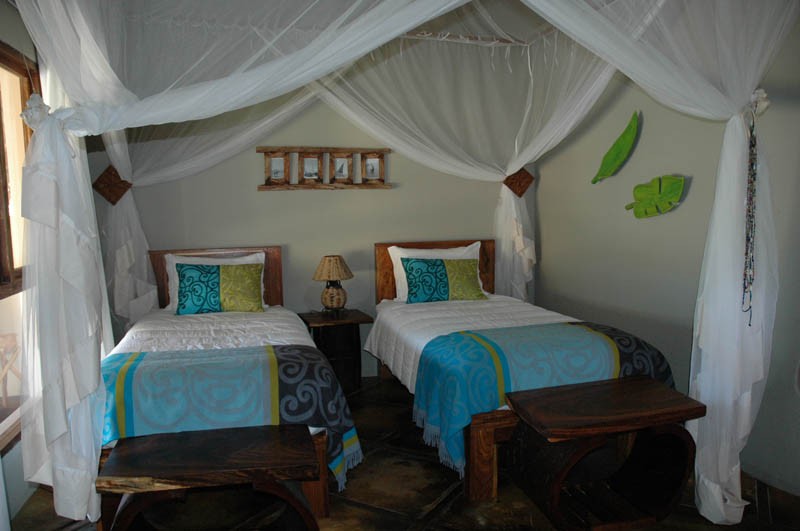 Pros of medium to large group sizes:
A very social way to travel, great for single travellers and for meeting new people along the way
Cheaper safari prices thanks to bulk discounts on accommodation rates, shared fuel costs etc
Good specials, extras and add-ons on offer with some of these tours
Cons of medium to large group size:
Less one-on-one time with your guide/s
More participation on safari (putting up tents, packing up camp and meal preparation)
Overlanding safaris across the board offer some traditional "Bush" camping, mostly as an optional extra excursion. The bush camping takes place in wild settings, immersing guests in the African Bush.