Find out exactly what to expect on a short Kruger National Park Safari in this blow-by-blow, firsthand account of our 3-day Kruger Park Bungalow Safari.
The day before the safari - Sunday's travels
A 07h00 wake up call on a Sunday was an early start, especially after a late night at the annual Cape Town Carnival. Given a VIP invite, how could I have refused? After a night of dancing and cheering the parading artists & performers, Sunday morning was hard work and I was glad I'd made sure to pack the day prior.
Packing for Kruger - wardrobe and essentials
For my third visit to Kruger National Park and the second towards the end of the rainy summer in March, I packed for all seasons: a warm hoodie and wooly beanie for chilly early morning game drives; board shorts for the anticipated hot afternoons and possible dip in the Skukuza camp swimming pool; hiking boots and sandals; changes of shorts and shirts and rain jacket just for in case.
Included on my essentials list were: a flashlight for wandering between camps in the dark; toiletries including bug spray, hat and sunblock; charged batteries and of course the all-important camera, lenses and binoculars. With everything checked off and packed into my soft backpack and day bag, I woke up ready for the 40-minute journey from Cape Town's South Peninsula to the airport.
I grabbed a quick coffee & breakfast snack and was ready to board the two-hour flight to Johannesburg. Before I could get through Vampire Weekend's Modern Vampires Of The City and Penguin Cafe Orchestra's Signs of Life, my Mango (low cost) flight was preparing to land at O.R Tambo Airport, 'doors to manual' my journey had truly begun.
I was met in the domestic arrivals hall by the lodge's friendly driver/guide Mos. Holding aloft a sign with my name on it, he was hard to miss. A short ten-minute drive and I was welcomed by my host Francois Jones and shown around the comfortable peaceful accommodation housed in a rustic chic-styled guest house.
The Cradle of Humankind Tour - optional half-day activity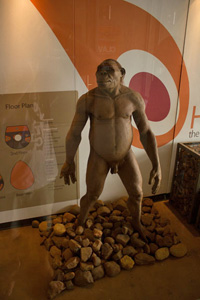 After freshening up, I was entertained by the friendly and approachable Francois' before our transfer was ready to depart for the half-day tour, to the Cradle of Humankind, which I had arranged through the lodge. Unfortunately, the Sterkfontein Caves were closed due to flooding, which is the actual site where the first hominoid remains of "Mrs Ples" or Australopithecus africanus were discovered. Our group paid a worthwhile visit to the interactive visitors' centre of Maropeng, where we learnt a lot about the common ancestry we share with chimpanzees and gorillas, and today, our co-existence with many different cultures on planet earth. A sign quotes: "It is through our relationship with others, that we define the way we see ourselves." - quite!
The tour was a total of six hours, including four-hour visit, and two hours in transit. That evening Francois prepared a sumptuous three-course meal, halloumi and berry salad starter, seared ostrich fillet served with mash and steamed vegetables, finished off with a chocolate mousse for dessert.
Let the safari begin - to the Bush on Monday
I was up at 06h00 sharp and our transfer departed soon after breakfast for the five-hour journey to Kruger National Park. The lush and varied agriculture of Mpumalanga made the drive entertaining. Banana; avocado; macadamia; citrus; sugar cane, you name it, the hot and humid Lowveld allows for a bounty of different crops.
Upon arrival at Skukuza camp, in the Kruger National Park, our group of ten had a brief meet & greet with Debbie our experienced safari guide. She gave us our itinerary of the tour whilst we sipped on glasses of chilled orange juice - a welcome refreshment in the 35 + degrees heat. Our driver managed the SANParks check-in procedure, whilst we enjoyed lunch at one of the Skukuza camp restaurants. Opting for the braai (barbecue) area, I went with a traditional South African speciality pap & wors (maize and sausage) served with Chakalaka, an onion and tomato based sauce that has its origins as prison food!
Our driver collected us from the restaurant area and ferried us to the accommodation, which caters for all budgets. The camping is more like glamping - bed, powerpoint, bedside light, fan, shower gel and towel. My rondavel-style chalet (bungalow) although not luxury was comfortable and clean with a private bathroom, air-conditioned bedroom and a small kitchenette.
After settling in, we were soon collected by Debbie for our first late afternoon to early evening game drive, from 15h00 till 18h00. The conditions were very atmospheric, with rolling thunder and distant lightning; which made a perfect setting for this thrilling experience. Our savvy guide Debbie was extremely patient and thorough taking her time, driving slowly and stopping at any sight of bird or beast regardless. We were rewarded with the rare opportunity of sighting a pearl spotted owl, not commonly seen, even by Debbie who had not spotted one for some time. Just before dusk, birds swoop in abundance and as a would-be twitcher, I was in my element: European rollers; hammerkops, lilac-breasted rollers; fork-tailed drongos; hornbills; francolins, African turtle doves and guinea fowl. We also had good sightings of white rhino - mother with juvenile in tow.
Rhino and juvenile - Daniel De Lapelin Dumont
Hornbill - Daniel De Lapelin Dumont
After spotting antelope and herds of other bovine wildlife, we finally came upon three out of the four male lions Debbie had told us about. We spent a good while with these three brothers and no other vehicles in sight. A special and exclusive moment for our group. Running out of time we made our return to the camp, as the sun set, turning the moody grey clouds into dreamlike colours of orange, gold, purple and red.
Male lion - Daniel De Lapelin Dumont
Back at the chalets and tents, we had a short time to change before dinner. Our chef presented an outstanding three-course meal: grilled tomato and aubergine stack finished with a balsamic reduction for starter; ostrich steak for main and a melktert – a custardy South African staple - for dessert. The meal came with free flowing red & white wine served throughout. With a full belly and empty wine glass, I was ready for yet another early night after a long day. Welcomed by the cool air-conditioned room and with mosquito screens on the doors and windows, I was fast asleep in no time at all.
Dining area - Daniel De Lapelin Dumont
A full day in Kruger Park - in the Bush on Tuesday
I was out of bed at 05h30, and after a quick cup of tea with muffins and fruit, we boarded our custom built safari vehicle for our first early morning game drive.
Game viewing vehicle - Daniel De Lapelin Dumont
We set off at 06h00 sharp, as soon as the Park's gates opened at the camp. This three-hour game drive rewarded us with a glorious sunrise, further bird sightings of pied kingfisher, Goliath heron (Africa's largest) and bee-eaters. We then caught sight of hippo mother and baby doing what they do best - wallowing in the water. A troop of playful baboons; giraffe; elephant; antelope; golden orb spiders and even a flap-necked chameleon soon followed.
Pied kingfisher - Daniel De Lapelin Dumont
Woodland kingfisher in Kruger - Daniel De Lapelin Dumont
Lilac breasted roller - Daniel De Lapelin Dumont
Baboon and baby - Daniel De Lapelin Dumont
Chameleon - Daniel De Lapelin Dumont
My warm hoodie & woolly beanie came in handy as our comfy custom built Toyota Hilux game viewing vehicle effortlessly cut its way through the chilly morning in Kruger. Back in camp at 09h00, we were served a hearty breakfast after the hard work of spotting wildlife. We shared reports of our sightings with the other group who were fortunate enough to spot the elusive leopard. The rest of the late morning and early afternoon was spent relaxing around the shaded communal restaurant area of Skukuza camp, overlooking the Sabi River, sipping chilled Windhoek Lager reflecting on the experience thus far.
The group gathered at 14h30 for refreshments, before setting off on our second late afternoon to early evening Game drive. Back on our open 4x4 vehicle, our first bit of entertainment came from a female klipspringer (antelope) chewing her cud as she posed on top of a large bolder for sunset. Passing a few mischievous hornbills, Debbie observed a smiling spotted hyena pup, safely relaxing near the entrance of its den.
Hyena pup - Daniel De Lapelin Dumont
More bird species identified including a woodland kingfisher getting harassed by the most photographed bird - a lilac-breasted roller - clearly wanting some lens action! We made our way down to a water hole & enjoyed some time with a pod of hippos, waterbuck and carmine bee-eaters as we approached dusk.
Hippos - Daniel De Lapelin Dumont
Debbie recommended we continue to a large herd of buffalo spotted earlier in the distance, as she was confident they would cross the road and we'd be able to get close up. We got a little more than what we bargained for, the constant stream of buffalo felt endless and Debbie estimated about 500 odd.
Buffalo - Daniel De Lapelin Dumont
We had another flap-necked chameleon sighting as the dusk closed in. Before we could get to our 'home from home' we were accosted by a herd of elephants. A beautiful and intense close encounter, we were forced to stop and sit it out. Being so close to these gentle giants was the highlight of our game drive. They accepted our unthreatening presence and passed right by our vehicle. Moments like these can be life changing, wildlife up close, the group in silence and awe. Once the final elephant had left, we continued to the Skukuza gate, late, but welcomed with big smiles from the SANParks staff.
Elephant - Daniel De Lapelin Dumont
We gathered around an open fire for a late sundowner at 19h30, eagerly awaiting another wholesome dinner. Tonight our chef rustled up a Greek salad starter, beef bredie (a bit like a beef stroganoff) and chocolate mousse with raspberries for dessert. After dinner, we returned to the campfire for stories of the day and drinks. With tall tales and a good laugh, 23h00 was a late night in the bush and I made my way back to my comfy chalet bed.
The scenic route home - back to civilization on Wednesday
05h30 was the final early start, I packed my bag for the long journey home. Tea, muffins and goodbye to our hosts and safari comrades, who were staying more nights in Kruger National Park, before we began our 'groot trek' homeward. It took an hour to clear the park gates, but we were rewarded with sightings of vulture, elephant, zebra, giraffe and lion - not too shabby for our departure in the air-conditioned Toyota Quantum. We said goodbye to Kruger National Park and an hour later we arrived at the town of Graskop for breakfast and the beginning of the Panorama Route. We visited God's Window viewpoint, Lisbon Falls; the Three Rondavels and Blyde River Canyon viewpoint, which was spectacular. The latter is the world's third largest canyon, after the Grand (USA) and the Fish River (Namibia), yet it scores number one for being the greenest.
Panorama - Daniel De Lapelin Dumont
A five-hour drive back to Johannesburg I am dropped off at O.R Tambo around 17h30, in plenty time to check in for my 19h20 Kulula flight back to Cape Town and I realise I didn't use my waterproofs once. On the two hour flight back to Cape Town, all I could think of was getting back to the bush.
Heron - Daniel De Lapelin Dumont
You can see more photos from this Kruger Safari on Flickr.
Check out the short video of this Kruger Safari on YouTube.
We have a host of Kruger Safaris that are similar to this 3 day Kruger Park Bungalow Safari, including a 4-day, 5-day, 6-day and 7-day version of this tour. For more details about these safaris please see the links below.
Alternatively, you can browse through our awesome collection of budget Kruger Park Safaris.